MoD Clears Proposal For 814 Mounted 155mm Guns
By SP's Special Correspondent
Photo Credit: Ashok Leyland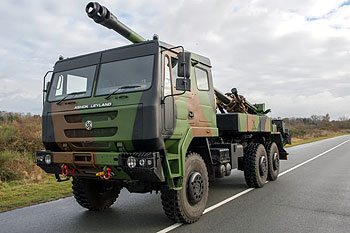 November 24, 2014:
Following a fresh request for information in July last year, the MoD has cleared the Indian Army's proposal to tender for 814 truck-mounted self-propelled 155mm gun systems at a cost of approximately Rs. 15,000 crore. The procurement, officially titled Mounted Gun System (MGS) and part of the Field Artillery Rationalisation Plan (FARP), is to be from an Indian vendor with technology that may be either indigenous or licensed from a foreign third party. Competitors for the programme include the Tata SED 155mm mounted gun system, which involves a gun mounted on a eight-wheeled Tata truck and the L&T-led consortium that involves a Nexter CEASAR gun mounted on an Ashok Leyland 6x6 Super Stallion truck chassis. Vendors responded last year to a 29-question RFI that was sent out to several firms, including Tata, L&T, Bharat Forge and Mahindra Defence among others. The cleared deal paves the way for an important part of the FARP, given that none of the other elements of the plan — towed, tracked self-propelled, and now ultra-light — have fired in terms of acquisition. Army sources informed
SP's
that the offerings that have been demonstrated so far informally have inspired confidence that the competition will be a healthy one that will also establish meaningful infrastructure within the country and create capacity in terms of weapon metallurgy. Officials at both Tata SED and L&T said they welcomed progress in the deal and were looking forward to the crucial competition.