BrahMos Targets $10-Billion Orders By 2020
By SP's Special Correspondent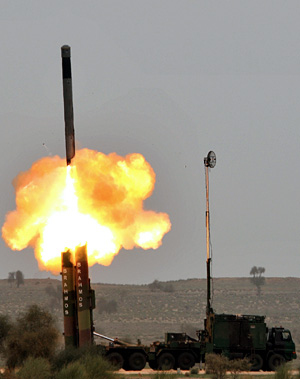 February 02, 2015: BrahMos Corp. is targeting orders of $10 billion by 2010. It currently holds orders amounting to $6 billion, which involves supplies to the Indian Army and Indian Navy. BrahMos CEO & MD Sudhir Mishra, who recently attended the Vibrant Gujarat summit, made a presentation detailing the company's plans moving forward. BrahMos Corp. is currently focusing on ongoing developments related to the futuristic BRAHMOS-NG (Next Generation) missile, a hypersonic weapon system that will be India's first. The other is the BrahMos-A, the air-to-ground version, the first test launch of which is expected in March 2015. BrahMos Corp. began delivering the missile weapon system to the armed forces in 2005. The Indian Army has operationalised the supersonic cruise missile system in its arsenal and further orders are in pipeline. The Indian Navy has installed the universal weapon system on its destroyers and frigates, and many of its newly-built frontline warships (including the Kolkata-class and follow ons) will be fitted with BrahMos. The Indian Air Force also has on order land and air-launched version versions of the weapon system. While the BrahMos has never been exported, the BrahMos chief has stated that exploring the possibility of a first export in the near term is being looked at very closely.