By Lt. General P.C. Katoch (Retd)


Former Director General of Information Systems, Indian Army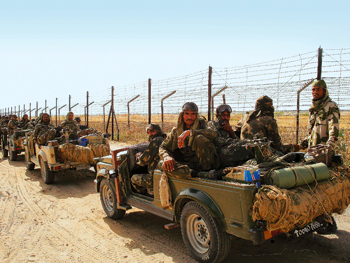 Border Recce
The Parliamentary Committee for Defence has been rapping the government for its lackadaisical approach to defence, however, this time it is the Comptroller and Auditor General (CAG) who has pulled up the Border Roads Organisation (BRO) for inordinate delays in building strategic roads facing China and pointed out several deficiencies like faulty construction, defective alignment and improper contract management; not that CAG doesn't not bring out such anomalies from time to time against government organizations including the army, navy, air force. But observations by the Parliamentary Committee for Defence or the CAG in the past have made little difference — we continue to ramble along at the same pace. Interestingly, this observation on BRO's functioning by the Parliamentary Committee for Defence came in immediate aftermath of China inaugurating the second airport in Tibet close to India, ensuring logistical support to its defence forces deployed on the Line of Actual Control (LAC).
It may be recalled that on Army Day this year (January 15), Army Chief General Bipin Rawat had stated that of the 72 strategic roads only 22 have been completed after so many years, and 'all' of the 14 strategic rail-lines approved remain on paper only. Expressing concern over delay in building roads, the CAG in its report has pointed out: of the 73 strategically important roads identified by the government as India China Border Roads (ICBRS), BRO was entrusted with building 61 roads (total length of 3,409.27 km) at estimated costs of Rs 4,644 crore, but only 15 roads were completed by the 2012 deadline; of the balance 46 roads, only seven roads were completed by March 2016; 22 roads were completed up to March 2016 despite incurring an expenditure of Rs 4,536 crore against estimated cost of Rs 4,644 crore for 61 roads; numerous instances of defective construction of roads on account of unsuitable design or specifications, steep gradient, defective alignment, turning problems for vehicles, improper contract management, poor riding conditions, inadequate drainage facilities and non-connectivity or roads; aside from delays, additional expenditure of Rs 63.20 crore on account of corrective action, and; non-completion and faulty specifications of works have a serious bearing on the operational capability of the armed forces.
So, in effect CAG has pointed out that BRO has spent Rs 4,559.2 crore (inclusive of Rs 63.20 crore for corrective action) and completed only 22 roads by March 2016 against the 61 roads it was tasked to complete by 2012 at the cost of Rs 4,644 crore. Obviously the estimate for constructing these 61 roads must have been worked out by the BRO itself. Out of the original estimate, only Rs 84.2 crore remain and 39 roads are yet to be completed. How many more thousand of crores of rupees will be required to complete the balance39 roads is anyone's guess but are we not looking at institutionalized corruption at a massive scale which is unconcerned of the operational disadvantages and unaccountable because of certain nexuses of convenience. Ironically, the feedback from forward areas is that surfacing of some of the new roads built by BRO get skewed with just one winter; naturally more money would be spent (and made) when resurfacing becomes necessary annually wholly or in parts. Conversely, roads built by private enterprises are far, far better. However, BRO officials keep requesting formation commanders in these areas not to demand road construction by private entities. CAG has not commented on the 14 strategic rail-lines approved by the government that have not moved beyond the paper (as mentioned by the Army Chief), perhaps because CAG may not even be aware about this.
Moreover, China has built nearly 5,000 km of rail network in the Tibetan plateau linking it with mainland all weather roads right up to LAC. In comparison, our soldiers even now have to walk for three to four days from the nearest road head to their posts on the LAC. The irony is that this is the state of affairs despite BRO being directly under the MoD. Sure, the PLA outnumbers our military in many aspects of armaments, equipments and manpower, however, our military is capable of not only holding on but also give a bloody nose to the PLA at any point on the LAC should conflict be forced upon us. But one serious shortcoming is China's superior connectivity to the northeastern parts of India and Ladakh and its capability of rapid mobilization of troops. India does not enjoy this luxury, which adversely affects the defence of Sikkim, Ladakh and Arunachal Pradesh. The government needs to act swiftly to bridge this disadvantage.