By Lt. General P.C. Katoch (Retd)


Former Director General of Information Systems, Indian Army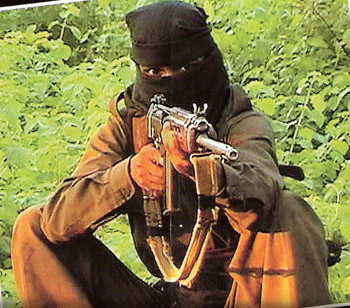 The twin Maoists attacks in Sukma on March 11 on a 110-strong CRPF column) and on April 24 on a 99-strong CRPF column, inflicted massive casualties on the CRPF; 36 killed and 12 injured, besides loss of 34 weapons (29 assault rifles, four LMGs, one 51mm mortar), one UBGL, seven radio sets, assortment of ammunition, all bullet proof jackets and other equipment. Maoists, mutilated, castrated and booby trapped the bodies, removing shoes and socks. No Maoists body was recovered. Not a single CRPF or IPS officer was accompanying these large columns. Total void of junior leadership, lack of motivation, and poor operational combat training were conspicuous. The jawans can hardly be blamed for the reverses, even breaking contact moment fire was opened without any counter ambush drill, when the officers have abdicated their responsibilities of at least accompanying and leading them in combat operations.
Union Home Minister Rajnath Singh chaired a meeting on May 8 with chief ministers and top officials of 10 Maoist-affected states; CMs of West Bengal, Telangana and Andhra Pradesh were absent though district magistrates and superintendents of police of 35 worst-hit Maoist-affected districts along with heads of paramilitary forces and intelligence agencies attended. Calling for a strategic and unified command of all states with "unity of purpose", the Home Minister batted for introduction of UAVs for tracking Maoists hideouts in deep jungles, adding, "I am sure that the attempts to stall development and throttle democracy at gunpoint will not be successful ever." Whether anything other than use of force was discussed is not known but media reported topping the agenda was re-calibrating strategy to make it more effective and to minimize casualties. Subsequently, an interview of DG CRPF appeared in media saying the issue had been reviewed and a completely new strategy redrawn. This new strategy includes: shift of ADG-rank officer from Kolkata to Chhattisgarh; supervision of CRPF troops in operations from HQs and control rooms with full support - technology, logistics, intelligence; no new training, but emphasis on infrastructure, technology, intelligence; 33% participation from State forces in joint operations, which is major change in strategy after recent attacks; counter-Maoist operations must be joint operations with state personnel leading from the front. Other media reports included government decisions: States to lead operations with CRPF in support role; two more joint command and control centres to be set up in Gaya (Bihar) and East Singhbhum (Jharkhand) similar to the one functioning at Chhattisgarh's Jagdalpur; CRPF to redeploy Cobra battalions in Sukma region from West Bengal, Bihar, Telangana and Madhya Pradesh.
A recent report states 16 suspected-Maoists killed in two encounters in Bijapur area of Chhattisgarh, exact encounter spots not disclosed. How one police / CRPF jawan was killed and two injured is not reported either — possible IED casualties? Strength of own columns and Maoists too was not mentioned. Not a single body of the 16 suspected-Maoists killed and any weapon recovered, yet it is being trumpeted as "revenge" for the 25 CRPF killed and 34 weapons lost on March 11 and April 24. If this is true, isn't it a matter of utter shame that the CRPF column s of 110 and 99 on March 11 and April 24 respectively abandoned their dead and wounded and lost 34 weapons despite large strength in ambush areas? It appears that the directive "states to lead operations" was executed pronto at least on paper. Hopefully, it doesn't turn up eventually as a civilian massacre — reported as suspected-Maoists. Post the Maoist ambush on April 24, MHA declared entire Assam and selected districts of Chhattisgarh as 'Disturbed Area'. When this area is declared 'disturbed', it is the CRPF (designated No 1 counter-insurgency force) that must take the lead, not the State. Of the 67 Central Armed Forces (CAPF) units in Chhattisgarh, 27 are CRPF (maximum) and more Cobra units are being redeployed from other states. Imagine if in the 'disturbed' areas of J&K and Northeast the Army and Assam Rifles say sorry we are in "support role" and will not conduct joint operations unless the state forces provide 33% forces and "lead" the operations. Besides, can DGP of a State plan and handle the strategy to be adopted with massive mixed CAPF forces (CAF, CRPF, BSF, ITBP, Cobra, SSB, STF) equaling more than seven Army Infantry Divisions in Chhattisgarh alone, even if assisted by ADG-level CRPF officer? Unfortunately, the vital need for IPS and CRPF officers to lead their men in operations has been glossed over once again. Just calling for 'monitoring from HQ' is a joke. The requirement to review counter-insurgency training and ensuring 'every' individual goes through pre-induction training remains unaddressed. The only advantage is to the CRPF and the MHA for having washed off their hands once for all from overall responsibility of counter-Maoist operations. No one can press them now why the Maoists nerve centre in Abumajh region of Dandakaranya Forest is not dominated and rule of law established. Countering Maoists henceforth is baby of concerned States, not MHA and not CRPF. The officers of CRPF (whether IPS or CRPF) can continue enjoying life in towns. Ironically, of the 83 new police stationed in Chhattisgarh, only about 50% have been established after so many years, those too hugging towns. Overall, the situation on ground is likely to worsen more.