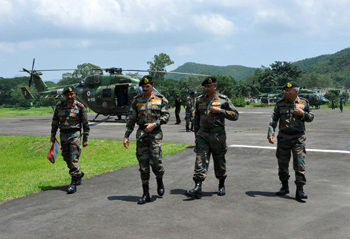 COAS arriving at Manipur to visit encounter site
In the aftermath of the insurgent attack on Assam Rifles convoy in Chandel District on 22 May 16 in which One Junior Commissioned Officer and five soldiers were martyred, Gen Dalbir Singh, Chief of Army Staff alongwith Lt Gen Praveen Bakshi, Army Commander, Eastern Command visited 29 Assam Rifles battalion today.
The COAS interacted with Maj Gen VS Sreenivas, IGAR (South) and Commanding Officer of the battalion and was briefed on the incident including the combing operations in progress and the measures undertaken to neutralise the insurgent group involved in the attack. The Chief stressed on the need to further carryout relentless operations against the insurgents active in the region.
The COAS expressed his condolences to the families of the martyrs and directed the officials to ensure all required support was extended to the families. The Army Commander meanwhile, reiterated that, "such acts of violence by insurgents strengthen our resolve to continue operations against insurgent groups with an aim to ensure lasting peace and prosperity in the region."