CYBERBIT, a wholly-owned subsidiary of Elbit Systems Ltd. (NASDAQ and TASE: ESLT), will present its cybersecurity portfolio (Booth #D285), for the first time in the UK, at the 2016 Infosecurity London, the Olympia, June 7-9 2016.
CYBERBIT will showcase the following products and provide live case studies:
Security Operation Center (SOC) management: a command and control center for SOCs providing complete situational awareness, incident response automation and accelerated decision making tools for rapid resolution.
Endpoint Detection and Response: a big-data based solution for detecting unknown targeted threats in seconds and managing the entire process all the way to real-time forensics and proactive hunting.
OT Security and Continuity: enabling OT and IT managers to visualize their entire OT/SCADA networks, discover IT and OT touch points and detect malicious activity and potential continuity risks in real time.
Cybersecurity Training and Simulation: used by service providers, academia and government organizations to provide a hyper-realistic training environment for SOC teams. The platform simulates attacks in real-life settings and is capable of running complex, evolving attacks, supporting individual and team training.
CYBERBIT's VP for EMEA, Yochai Corem, will be hosting a workshop on Wednesday June 8 from 10:00-12:00, titled "Planning for SOC 3.0", where he will showcase customer case studies, demonstrating their approach to addressing next-generation security operations challenges.
CYBERBIT was established in 2015 as a spin-off from Elbit Systems, a global leading defense systems provider, and leverages this experience to provide a new approach to enterprise security for IT and OT networks. CYBERBIT's products focus on people and technology combined. Its wide variety of products is designed to address the key security industry challenges at present, which include skill shortage, alert fatigue, rapid team qualification and the growing complexity and targeted nature of threats.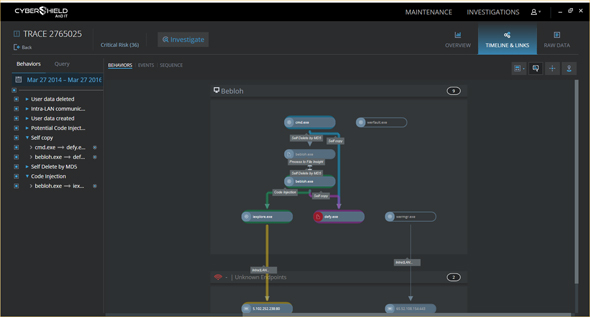 CYBERBIT Endpoint Detection and Response Screenshot