A demonstration on capabilities of Mathura based Strike 1 to seamlessly effect crossings on river obstacle was conducted on banks of Yamuna River on July 14, 2016 along the stretch of river adjoining the cantonment. The Exercise code named 'Megh Prahar' was undertaken by formation of its spearhead Armoured Division and aptly showcased the variety of equipment, innovativeness of commanders, jointmanship, professional outlook and war waging potential of the DOT Division.
Exercise Megh Prahar would help in testing the effectiveness of the ultra modern Tank T-90 & BMP-2 held with Indian Army in fighting across opposed river obstacle. This exercise also showcased the importance of incorporating the Third dimension in bridging the gap of an obstacle and helping in capture of depth obstacle by a mechanized formation. The war preparation & effectiveness of Strike 1 was proved beyond doubt during the exercise.
The demonstration was witnessed by Lt Gen Shokin Chauhan, General Officer Commanding, Strike 1 and many other senior dignitaries of Army. During interaction with media the General Officer dwelled upon the conduct of the exercise and reaffirmed the highest degree of operational preparedness of Strike 1 in all facets of war fighting.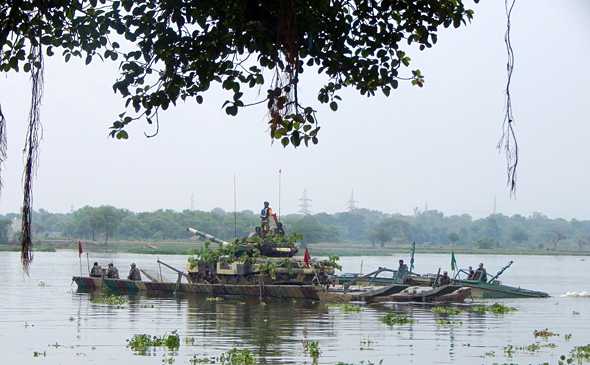 Tanks negotiating a water obstacle during exercise Mega Prahar on July 14, 2016
Demonstration of BMPs negotiating a water obstacle during exercise Mega Prahar on July 14, 2016