Exercise Yudh Abhyas 2016 has been conducted at Chaubattia, Uttarakhand on September 27, 2016. The two week exercise included a Company Group from an Infantry Battalion of Indian Army and 5th Battalion 20th Infantry Regiment of the US Army.
The exercise was the twelfth in the Yudh Abhyas series, which started in the year 2004 under US Army Pacific partnership program. Exercise YUDH ABHYAS strengthens and broadens interoperability and cooperation between the Indian and US armies. It is the third Indo-US Army exercise at Chaubattia, Uttarakhand and complements number of other exchanges and exercise between the forces.
Over the years the two countries have decided to progressively increase the scope and content of the combined exercise and Exercise YUDH ABHYAS 2016 has witnessed a Brigade Headquarter based Command Post Exercise, an Infantry company carrying out Field Training Exercise and discussions on issues of mutual interest by experts of both countries. The exercise provided an ideal platform for the personnel of the two countries to share their experiences on counter insurgency and counter terrorist operations, especially in the mountainous terrain.
Major General RK Raina in his address congratulated both contingents on successful conduct of exercise. He stated that Indo — US friendship is steadily rising. The bonhomie shown by both contingents further reinforces it and paves the way for a strong and irrevokable strategic partnership. He also stated that both countries are faced with similar challenges from the divisive forces of extremism and international terrorism. The synergy achieved would enable us to operate together, if the need arises.
Major General Thomas James of US Army in his address stated that our army to army relationship has never been stronger and this exercise provides us a great way to build upon that strong relationship between our armies, by enhancing interoperability, strengthening cooperation and increasing readiness. He also stated that this strong bond between the armies is important to regional growth and stability. Getting to know each other creates the trust that is critical to bilateral combined operations.
The combined exercise was undoubtedly, an unprecedented success. Besides promoting understanding and interoperability between the two armies, it further helped in strengthening ties between India and USA.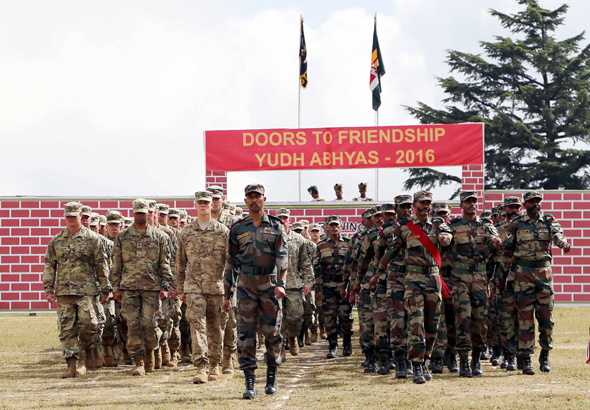 India and US troops march in during closing ceremony of Exercise Yudh Abhyas in Chaubattia
on September 27, 2016

India and US national flags are brought in during closing ceremony of Exercise Yudh Abhyas
in Chaubattia on September 27, 2016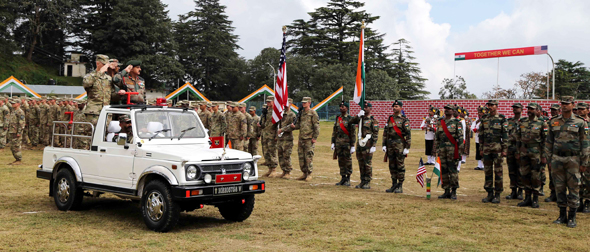 Major General RK Raina and Major General Thomas James reviewing the parade during
Exercise Yudh Abhyas in Chaubattia on September 27, 2016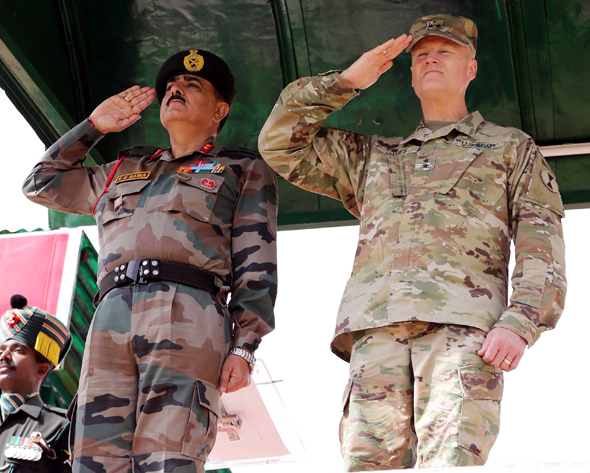 Major General RK Raina and Major General Thomas James taking the salute of joint contingents during
Exercise Yudh Abhyas in Chaubattia on September 27, 2016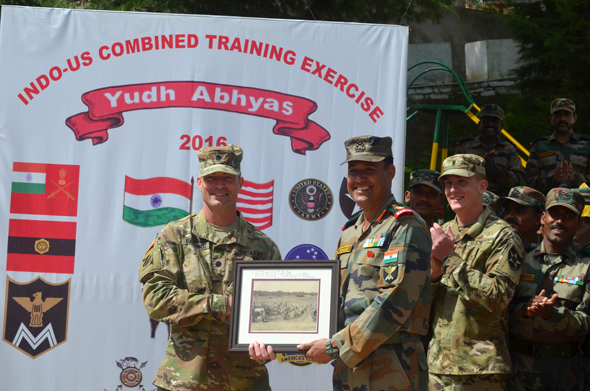 Contingent commanders exchanging mementoes during closing ceremony of Exercise Yudh Abhyas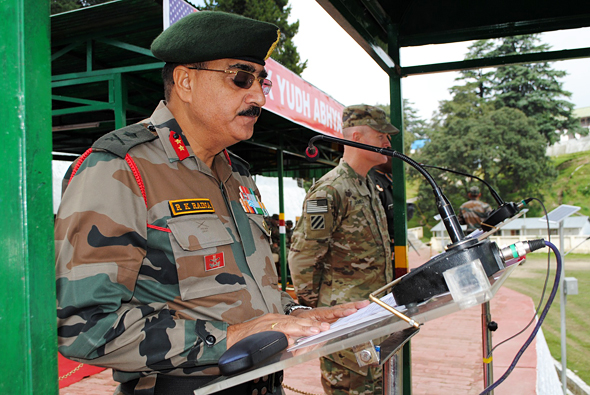 Maj Gen RK Raina addressing the joint contingents during closing ceremony of Exercise Yudh Abhyas
at Chaubattia on September 27, 2016