MBPV 4X4 (Medium Bullet Proof Vehicle) 4X4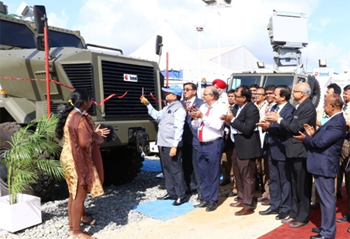 D.K. Hota, CMD, BEML unveils the MBPV 4X4 at the Defexpo 2018 in the presence of other officials
BEML LIMITED, a Public Sector Company under the Ministry of Defence, has launched Medium Bullet Proof 4x4 Vehicle (MBPV 4x4) at Defexpo 2018 - Land, Naval & Internal Homeland Security Systems Exhibition.
The highly advanced MBPV was launched by Shri Deepak Kumar Hota, Chairman & Managing Director, BEML, at the on-going Defexpo 2018 at Chennai.
The BEML MBPV 4x4, is a 4x4 Wheel RH Drive heavy duty all weather off-road mobility vehicle, specially designed for easy manoeuvrability, operability and maintainability.
This advanced blast protected and bullet proof vehicleshields the security personnel from small arms fire, hand Grenades and fragment simulated projectiles etc.. With survivability as the major objective, the MBPV 4x4 has a carrying capacity of 10+2 persons. This vehicle will be in use by the security forcesfor its counter insurgency operations in a hostile environment.
On this occasion, Shri D.K. Hota, CMD, BEML said, "The BEML MBPV 4x4, built on an indigenously developed 4X4 chassis, showcases our commitment for realising the mission of 'Make in India' through our own R&D and delivering world class products for the defence sector."
BEML is a major participant at the Defexpo 2018 by showcasing Defence Equipments like Armoured Recovery & Repair Vehicle (ARRV), BEML Tatra 8x8 VP13S vehicle platform with super structure, Trawl equipment for T-72 Tank, Aircraft Towing Tractor (ATT B10), Command Post Vehicle and live demonstration of Bulldozer and Motor Grader andother Defence Aggregates.