The procurement of these additional systems will ensure that every Merkava 4 tank and Namer APC will be equipped with an active protection system.
Trophy-HV MK4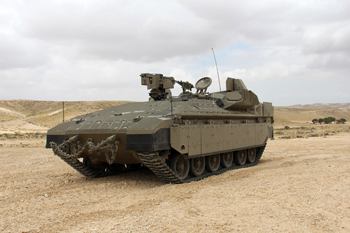 Trophy on NAMER APC
November 11, 2016: Israeli Ministry of Defense Director General, Gen. (res) Udi Adam, instructed the Directorate of Production and Procurement (DOPP) to purchase hundreds of additional Trophy active protection systems (APS), manufactured by Rafael. The volume is estimated at hundreds of millions of shekels. The new order will ensure that every new Merkava 4 tank and Namer APC will be equipped with the Trophy system, providing significant additional protection for every tank and APC.
In recent months, the Tank Management Program at the Ministry of Defense, together with the IDF (Israeli Defense Force) Ground Forces, conducted a series of successful tests on the Namer APC equipped with the Trophy System. Completion of the trials and the integration process allowed for the procurement and production of hundreds of additional Trophy systems.
Trophy, the winner of Israel's Security Prize, is considered the best active protection system of its kind in the world, and is the only operational, combat-proven APS. During Operation Protective Edge in 2014, Trophy intercepted numerous Hamas anti-tank missile attacks on IDF tanks and APCs. As a result, Trophy changed the image
Photo Credit: Rafael