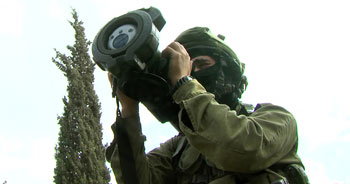 Rafael Advanced Defense Systems Ltd. hosted last month a group of some 15 delegations from countries around the world for a first-ever international demonstration of Spike SR — a Short Range precise, tactical missiles for ranges of up to 1500 m.
Spike SR has been designed to be used by the tactical infantry level (platoon, company). Its minimum flight range is 50m, and during the successful demo, the missiles were fired to various ranges, 150-1500 meters, against both stationary and moving targets.
The delegations arrived from various countries, including Poland, Switzerland, Sweden, Germany, Spain and others.
Spike SR is part of the wider Spike Family that consists of missiles with ranges of up to 30 km that can be launched from different platforms, naval, land and aerial, against a variety of targets. Rafael has sold so far 27,000 spike missiles to more than 26 customers.
The Spike SR is a uniquely-shaped missile with an advanced seeker that has enabled reduction in weight and size, and has lowered its cost and has made it more reliable than its competition. A major breakthrough in the design of the missile is the unification of its emission and flight engine — a unique development that has contributed to its low weight and short length. The missile is highly maneuverable and can hit moving targets at short ranges.
Spike SR (with canister and control unit) weighs less than 10 kg — lower that competing missiles. This constitutes a major advantage for small tactical missiles that are used and carried by infantry soldiers for great distances.
The missile's other innovative capabilities include an advanced tracker that can lock on very small targets day and night, and its high penetration level due to its tandem warhead.
Spike SR is in full production and has been sold internationally.
Moshe Elazar, Executive Vice President and Head of Rafael's Land Systems Division noted that the Spike SR complements Rafael's existing land systems and is another level in its strategy to define and implement advanced technological solutions for a variety of uses for land forces in Israel and around the world. He added that the completion of the project, which included numerous challenges in many disciplines, is another indication of Rafael's capabilities and is a source of pride for the company.