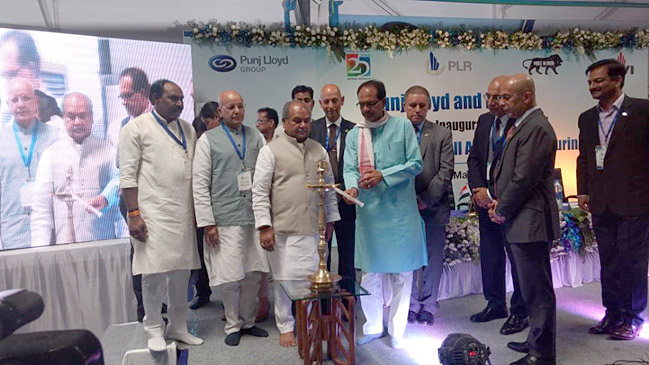 A picture from the inauguration ceremony, attending Shivraj Singh Chouhan — Hon'ble Chief Minister of Madhya Pradesh, H.E. Daniel Carmon — Israel's Ambassador to India, Brig. Gen. (Ret.) Mishel Ben Baruch — Director of SIBAT, Mr. Atul Punj — Chairman of Punj Lloyd, Mr. Samy Katsav — Chairman of SK Group
Diversified conglomerate Punj Lloyd and its JV Partner, Israel Weapon Industries (IWI) today inaugurated the country's first Private Sector Small Arms Manufacturing Plant at Malanpur in Madhya Pradesh.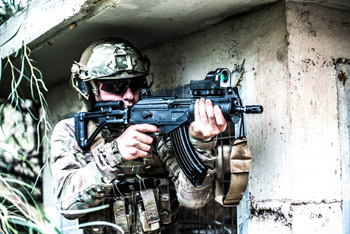 ACE 31 7.62X39mm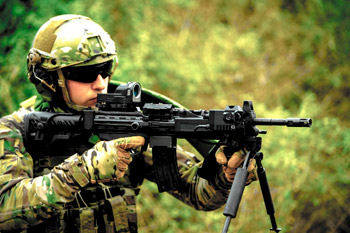 NEGEV LMG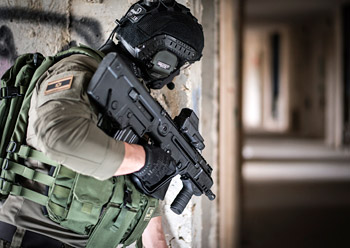 X95 Flattop 330 5.56X45mm
Presided over by the Honourable Chief Minister of Madhya Pradesh, Shivraj Singh Chouhan and Honourable Minister of Rural Development, Panchayati Raj, Drinking Water & Sanitation, Narendra Singh Tomar, the inauguration was attended bypersonnel from the Indian Armed Forces, State Police, Coastguard, Paramilitary, the media and dignitaries from the Indian Administrative Service. The joint venture company, Punj Lloyd Raksha Systems (PLR) will be manufacturing small arms for the Indian Defence Forces and also for export.
Speaking on the occasion, Samy Katsav, Chairman, SK Group said, "We are indeed fortunate to have in Punj Lloyd a reliable and knowledgeable partner. It is after a lot of due diligence in the Indian market that we identified Punj Lloyd for this partnership. Through this collaboration, we offer the combination of battle proven combat technology of IWI and the proficiency of a renowned Indian business partner. I am extremely upbeat about the opportunities in the sector and confident of contributing to the Make in India programme.
Punj Lloyd Chairman, Atul Punj said, "This is the first opportunity for the country to get its own 'Made in India' Small Arms.The need of the hour is to replace the country's defence weapons with sophisticated and high precision products and Punj Lloyd Raksha Systems is the answer to the country's immediate need." Further Mr Punj said, "These are tried and tested battle proven products already being used within the country. It is the first time in India that we are coming together with the complete technology to manufacture these products as 'Made in India'."
Present on the occasion, Michel Ben-Baruch, Head of SIBAT, Israel Ministry of Defence said, "Israel's Ministry of Defense fully and wholeheartedly supports this cooperation and will continue to support the transfer of technology and information also in the future, for the betterment of improved advanced tools. Israel and India consider their defense industry cooperation as a monumental step forward, towards a future of immense potential."
H.E. Daniel Carmon, Israel's Ambassador to India said, "Now celebrating 25 years, India and Israel's growing partnership is multifaceted and ever expanding. The relationship is built on the strengths of each country, contributing to the security and prosperity of both peoples. I applaud the establishment of joint cooperation ventures, such as between Punj Lloyd and Israel Weapons Industries, taking up Israeli President Rivlin's call for Israel to 'Make in India, Make with India'. I hope to see many more such joint endeavors ranging from Security to Food Security, Water to Cyber, Start-up to Space."