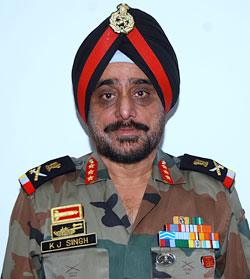 Lieutenant General Kamal Jit Singh has been promoted as General Officer Commanding-in-Chief, Western Command & will assume appointment on August 1, 2014.
Lieutenant General Kamal Jit Singh was commissioned into the Armoured Regiment in 1977. He is an alumnus of the National Defence Academy. He has attended the prestigious National Defence College, the Higher Command Course & the Defence Services Staff College. He has commanded an Armoured Brigade, an Armoured Division & an operationally committed Corps in the North East.
In a career spanning over 37 years, the officer has served in Counter Insurgency areas, Assam Rifles and with the United Nations Peace Keeping Force in Angola. The General officer has been awarded Ati Vishisht Seva Medal and Bar to Ati Vishisht Seva Medal.
The General Officer has held important staff appointments at formations & Army Headquarters levels to include Assistant Military Secretary (MS Branch), Colonel General Staff of a Division, Brigadier General Staff of a Corps & Additional Director General of Perspective Planning. The officer has also been an Instructor at the School of Armoured Warfare and Directing Staff at the Higher Command Wing of the Army War College.