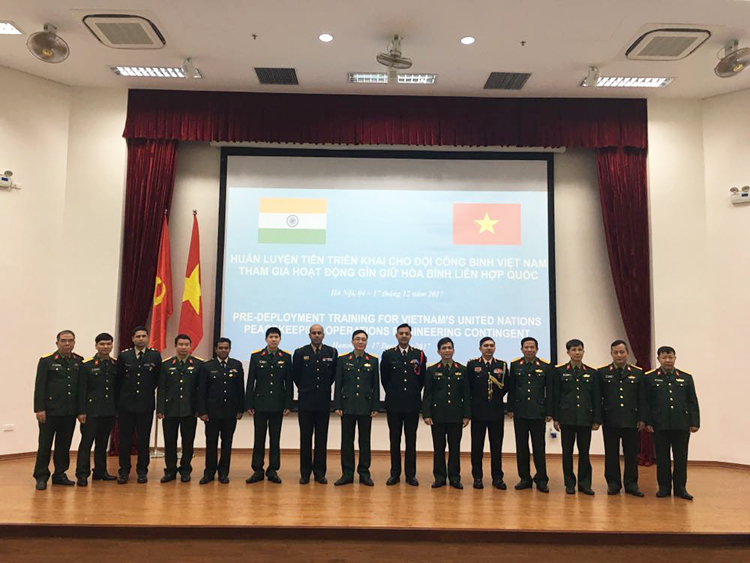 The opening ceremony of the Indian UN Peace Keeping Training by Mobile Training Team of CUNPK was conducted on Monday (Dec.04) at the Vietnamese Centre for Peace Keeping located at Thaach Hon, Hanoi. The ceremony was attended by the Indian Mobile Training Team (MTT), Sr Colonel Hoang Kim Phung, Director, Vietnamese Centre for Peace Keeping and Colonel PS Poonia, Indian Attaché to Vietnam, as also 210 prospective trainees of the Vietnam People's Army. The function was also covered by the Vietnamese media.
The training is to be conducted over two weeks by the MTT comprising of four Indian Army Officers. This is in the furtherance to the ongoing training assistance being extended to the Vietnamese Centre for Peace Keeping by the Centre for UN Peace Keeping, New Delhi (CUNPK).
The Director, Vietnamese Centre for Peace Keeping acknowledged the extensive and robust contributions by India towards UN peace keeping efforts across the globe. The Indian Defence Attaché to Vietnam brought out the growing cooperation, especially on the aspects related to UN Peace Keeping between the two countries.
The Indian Team leader apprised the audience of the complexities and challenges posed by the contemporary peace keeping mission dynamics. The need for prospective peace keepers to be well trained before deployment in the mission area is a pre requisite for effective peace keeping. Towards this end, the vast experience gained by the Indian Defence Forces would be of great assistance to the Vietnam People's Army.
The enthusiasm of both the trainers and the trainees was evident at the opening ceremony. The two-week pre- deployment training capsule would be extremely beneficial to the Vietnam Peoples Army in preparing their contingent and officers for the intended deployment.