Over the years, it has been growing in stature and size and this time it has attracted nearly 600 exhibitors from across the world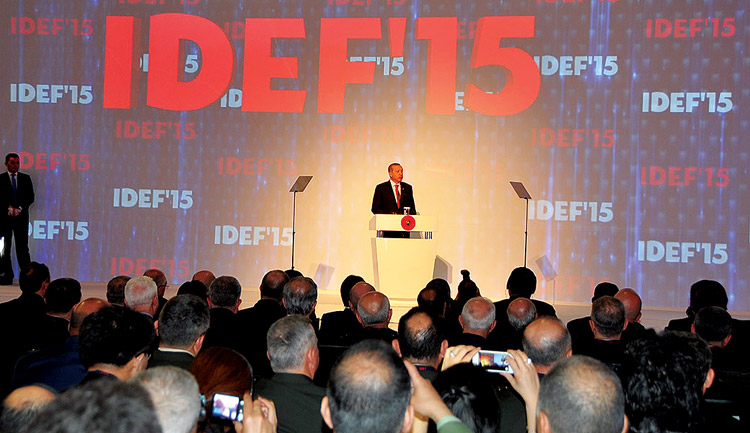 IDEF is biggest defence industry fair in Eurasian region and one of the top five in the world with an increasing trend in terms of the number of participating countries, delegations and companies
Since 1993, Istanbul , Turkey, has been hosting the International Defence Industry Fair (IDEF), as a biennial event, attracting major defence players to a location which is of strategic significance. The IDEF which is held under the management and responsibility of Turkish Armed Forces Foundation (TAFF) is the place for cuttingedge vehicles, equipment and systems that are produced in the fields of defence, security, maritime, aviation and aerospace. IDEF 2017 will be held between May 9-12, 2017, in Istanbul, the city which is the centre of history, culture, industry and trade at the crossroads of Europe and Asia continents.
Nearly 600 Exhibitors
Over the years, it has been growing in stature and size and this time it has attracted nearly 600 exhibitors from across the world. Thanks to IDEF, the technological developments in these sectors are reaching out to the world which is increasingly looking at significant international defence cooperation and promotion platforms in the world.
The 13th edition of the International Defence Industry Fair is being held under the auspices of the presidency of the Republic of Turkey, hosted by Turkish Ministry of National Defence, under the management and responsibility of Turkish Armed Forces Foundation and organised by TÜYAP Fairs and Exhibitions Organization Inc.
The Turkish Minister of National Defence and the President of TAFF, Fikri ISIK said: "I would like to state that, as the Ministry of National Defence, we will be very pleased to host the companies from defence, security, naval, aviation and aerospace industries sectors, right along with the official delegations of the friendly and allied countries in our country at IDEF 2017 Fair, which is a very important event to create international cooperation opportunities, and we will continue to give every kind of support for the success of IDEF Fair."
For this year's event, representatives of 156 countries, 353 official delegations and several senior officials of the armed forces of many countries are participating. There are major delegations from the United States, Germany, Russia, France, United Kingdom, Italy and many other European nations. India is not on the exhibitor list while Pakistan is.
The meeting between delegations and exhibitors will be organised this year again and the organisers have already lined up nearly 50 meetings between exhibitors and procurement and decision-making authorities attending the event.
Array of Products and Solutions
The Turkish exhibition will be showcasing latest technologies to do with land, naval and aviation. Exhibits such as aerospace vehicles and all related sensors and army systems; ballistic armour solutions and from smallest calibre to biggest; remote platforms and their sensors; related logistic support services; all kinds of electronic systems and its components; rockets and missile systems and air defence solutions from land-to-land, from land-to-air, from air-to-air and from air-to-land; all kinds of electronic warfare solutions integrated or stand-alone; training and simulation solutions towards all kind of platforms and systems; cyber defence; self-defence solutions and military medicine equipments.
Turkey is the seventh biggest arms trader country in the world It was sixth between 1950 and 2015, according to the Stockholm International Peace Research Institute (SIPRI)
The General Manager of TAFF, Orhan Akbas, said that the Turkish Armed Forces Foundation (TAFF), founded in 1987, has 30 companies, six of which are the leading companies of Turkish defence and aerospace industry and more than 50 per cent of their shares belong to TAFF.
In the beginning, the purpose of IDEF Fairs was to promote national defence industry. However, in a short time, IDEF Fairs became an important international promotion, marketing and cooperation platform of defence, security, naval, aviation and aerospace fields and ranked to fifth biggest defence industry fair in the world in terms of numbers of exhibitors and delegations participating in the fair.
Turkey is the seventh biggest arms trader country in the world. It was sixth between 1950 and 2015, according to the Stockholm International Peace Research Institute (SIPRI), one of the most influential think tanks in the world about the topics of conflict, armament, and peace keeping. According to the SIPRI's data, Turkey is not in the top 10 countries that import arms in the world in 2016 alone. When the time scale is extended, however, Turkey is the seventh arms importer country in the world within the period of 2010 and 2015. In the period between 2010 and 2015, Turkey's armament expenditures are close to $5.41 billion.
Turkmenistan Key Importer
Turkmenistan was Turkey's single largest weapons buyer over the past five years. The report said that Turkmenistan mainly bought ships from Turkey with some purchases of armoured vehicles as well. "The Turkish defence industry provides a wide range of products and services from advanced satellite systems to boots. Investment in the sector has increased product variety, thanks to which new export items are being added to subproduct groups. With the advantage of such a broad portfolio, Turkey has a distinct advantage of entering new markets soon.
The Stockholm International Peace Research Institute (SIPRI) lists Turkey, which has NATO's second-largest standing army, as the world's 16th largest arms exporter in terms of sales. The country's arms imports total $2 billion to $2.5 billion per year. As recently as 15 years ago, Turkey spent much more on such imports. A comprehensive drive to expand the local defence industry since the early 2000s has led to a significant reduction in money spent on foreign-made weapons and equipment.
Turkey Look at Exports
In a recent ceremony in Istanbul marking the start of construction on Turkey's first assault ship, the TGA Anadou, Erdogan said, "Our reliance on [defence imports] has decreased to about 40 per cent from 80 per cent in 2002. Our target is to bring this down to zero by 2023 when Turkey celebrates the centenary of the republic. We'll not only be meeting our own needs, but we'll also become the main supplier of friendly and brotherly countries."
Turkish defence companies have teamed up with Italian counterparts to produce assault helicopters and with Spanish counterparts for cargo planes and the assault ship, and talks on air defence systems are underway with US and European firms. The Turkish defence sector has already put a domestically produced warship to sea and is preparing to put a main battle tank in the field. A domestically produced infantry assault rifle and a drone have been tested successfully and are being showcased at international fairs.
Figures place the United States at the top of the Turkish defence companies' client list, with the Americans paying $30 out of every $100 the industry earns from exports. Turkish defence exports to the United States amount to $500 million a year, while such Turkish imports from the United States stand at about $1.5 billion. Hence, Ankara can hardly be satisfied with the current state of trade. The picture is more or less the same vis-á-vis other Western countries, including Britain, Germany, France and Spain, from which Turkey buys more than it sells. According to 2015 figures, Western allies bought more than half of Turkey's defence exports, while supplying all its imports in the sector, states Ufuk Sani, writer in Turkey Pulse.
In the light of this IDEF becomes the biggest defence industry fair in Eurasian region and one of the top five in the world with an increasing trend in terms of the number of participating countries, delegations and companies.