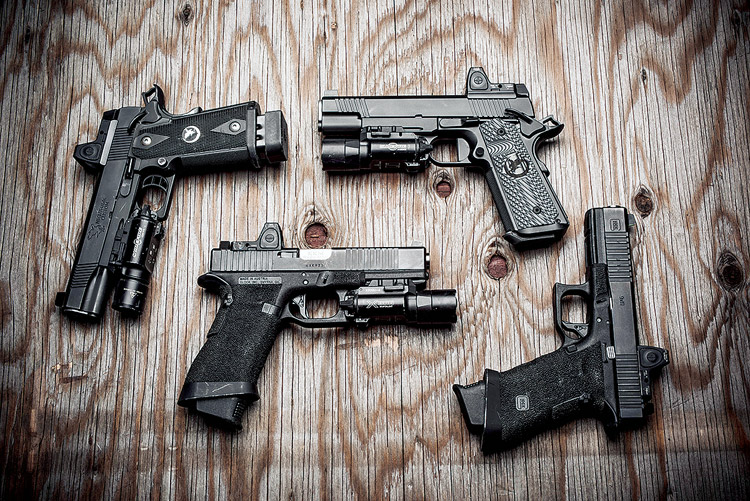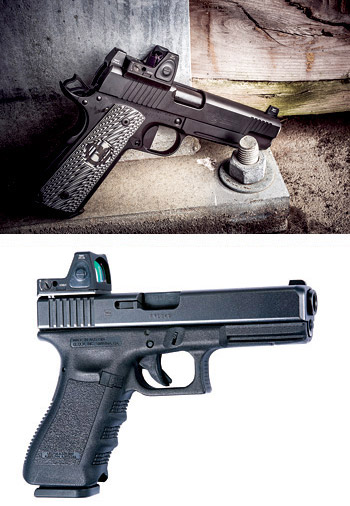 A handgun is designed to be fast, durable and extremely reliable...and so should its sighting system! Reflex-style sights provide lightning fast both-eyesopen target acquisition in any situation. The Trijicon RMR™ (Ruggedized Miniature Reflex) weighs a mere 1.2 ounces and provides a bright illuminated aiming point for instant target acquisition without the potential focusing issues associated with open sights. Best of all, the RMR is parallax-free, meaning simple "point and shoot" operation.
Eliminate Fuzzy Iron Sights
As we age, open sights tend to get a little fuzzy. Iron sights require the shooter to acquire a sight picture that involves a clear view of the rear sight, front sight and ultimately, the target. This takes time and that's something you don't have when your handgun is called to action. The RMR eliminates the focus issues by allowing the shooter to simply place the illuminated aiming point on the target, while maintaining total awareness with both eyes open.
Extended Range Capability
Handguns are designed to be short-range defensive weapons, but certain situations can require aimed shooting at longer than normal distances. Traditional iron sights tend to obscure or "cover up" targets at extended ranges making precision shots very unreliable. The Trijicon RMR allows the shooter to place the illuminated dot on target without losing target identity and shot placement.
Rugged Performance
Trijicon RMRs have been proven on the most demanding environments on Earth by U.S. Special Operations to law enforcement officers, and hunters of dangerous game. Available in three models—the Adjustable LED, Dual-Illuminated (battery-free) and LED—all RMR units are housed in an aircraft-grade aluminum chassis and tested to military standards, so they can handle the recoil of even the largest caliber. The RMR aiming dot is precise and visible in any light. Audible click adjustments quickly zero to point of impact, and its CR2032 lithium battery lasts up to two years in the LED version, and up to four years in the Adjustable LED model at mid-setting.

For more information on Trijicon's RMR optic, mounting options and the complete array of Brilliant Aiming Solutions for the hunting, shooting, military and law enforcement markets, contact Trijicon, Inc at (248) 960-7700 or visit Trijicon.com.