Preference is being given to indigenously designed defence equipment and procurement from foreign vendor is done only when Indian industry is not in a position to deliver the equipment within requisite timeframe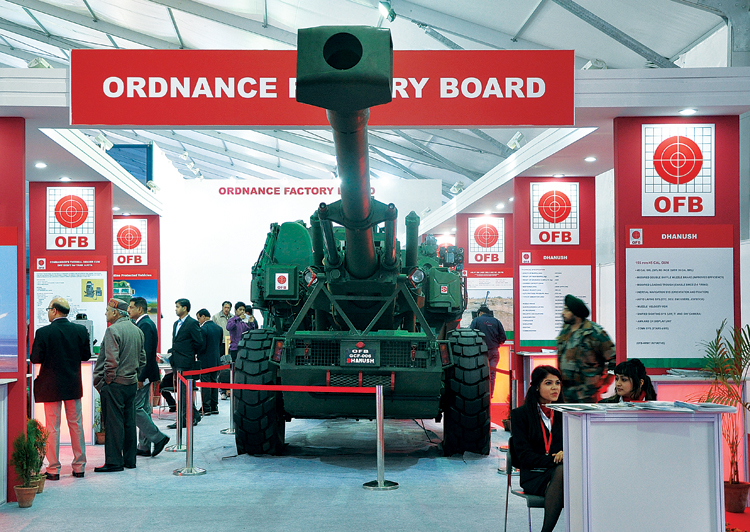 Dhanush 155mm/45-calibre gun
In spite of masive push for 'Make in India' in defence, the per cent of foreign content in the defence items produced by public sector remains high. Standing Committee on Defence in its latest report tabled in December showed concerns over the prevailing situation and noted that they should 'leave no stone unturned' in delivering latest equipments to forces within a fixed time framework with reduced foreign content.
"In case of the Hindustan Aeronautics Limited (HAL), the import component is said to range from 44 to 60 per cent; 36 to 44 per cent in case of equipment manufactured by Bharat Electronics Limited (BEL) and almost 20 per cent in case of equipment manufactured by Bharat Earth Movers Limited (BEML), from 2013-14 to 2015-16."
"Further, the import component of Ships manufactured by the Hindustan Shipyard Limited (HSL) is informed to be 21 per cent in 2016-17; 14.51 to 35.50 per cent for ships produced/delivered by Goa Shipyard Limited (GSL) and 28 to 58 per cent in case of Ships manufactured by the Mazagon Dock Shipbuilders Limited (MDL). Ordnance Factory Board's import content during the last three financial years stands at 8.9 per cent to 15.15 per cent," Standing committee said in its thirty sixth report to the parliament.
"Defence equipment is being imported from various countries as per the operation requirement of Armed Forces. During the last two financial years (2014-15 and 2015-16), 108 contracts with total value of 1,12,736.81 crore have been signed for capital procurement of defence equipment, out of which 73 contract involving a value of 72,303.34 crore were signed with Indian vendors and 35 contracts involving a value of 40,433.47 crore were signed with foreign vendors," it added.
According to the report, Defence Secretary has candidly admitted that heavy dependence of Air Force on foreign equipment is due to the lack of requisite sophisticated equipments in our country.
Government, in its response to the committee, said that preference is being given to indigenously designed defence equipment and procurement from foreign vendor is done only when Indian industry is not in a position to deliver the equipment within requisite timeframe.
"During 2016-17 and in current financial year (up to April 30, 2017), the Government has accorded approval to 34 capital procurement cases at an estimated cost of 1,02,338.45 crore out of which 23 AoNs (Acceptance of Necessity) at a estimated cost of 96,466.25 crore value are under the 'Buy (Indian)', 'Buy Indian – Indigenously Designed Developed and Manufactured (IDDM) and 'Make' categories," the report said.
As per the report, HAL has manufactured 14 aircrafts under Technology of Transfer (ToT) and has designed and developed 17 different types of aircrafts including engines and unmanned aerial vehicle and is making concerted efforts to indigenize components, accessories and systems required for manufacturing and maintenance of aircrafts and their subsystems. In addition, every year HAL is indigenizing more than 2,000 items and so far more than 600 types of line replaceable units have been indigenously developed for various platforms.
HAL has proposed for manufacturing of over 270 spares items of Su-30 MKI aircraft to be manufactured in India by private companies under ToT from Russian original equipment manufacturers. "Today, over 2,300 vendors are supporting HAL in terms of component manufacturing, tooling, sub-assembly and design and development," it said.
The report informs that the Bharat Electronics Limited, manufacturer of strategic electronics systems including radars, generates around 85 per cent of its revenue from indigenous technology. The company has three tier research and development setup and is also establishing an innovation center at Bengaluru, with larger infrastructure and resources. In next five years, BEL has plans to reduce the import content in its sales to 19 per cent from existing 23 per cent.
Similarly, the import content in the products of Bharat Dynamics Limited in last three years is around 14 per cent and for the same period import content for the Mishra Dhatu Nigam Limited (MIDHANI) hovers around 30 per cent.
Although, defence manufacturers – both public and private – profess to develop technology but only time will tell whether they will come up with next generation products in coming years or not. This should be the only parameter to evaluate the indigenisation numbers.
Indian defence shipyards which are suppose to be at the fore front of indigenisation in defence, but the report doesn't paint a rosy picture. As per the report, Kolkatabased Garden Reach Shipbuilders and Engineers, in terms of indigenous content is best among defence shipyards, has direct import content for its ships are in tune of seven per cent of the value of production.
On the other hand the GSL has reached indigenization level to 64 per cent in ongoing projects. "In new 5 CGOPV (Coast Guard Offshore Patrol Vessel) project, efforts are to be increase indigenization level to 70 per cent by increasing the local content further," report added.
The import content in the Hindustan Shipyard Limited delivered ships in 2015-16 was 27 per cent which has come down to 13 per cent in last financial year, a substantial achievement. On the other hand MDL, well known for building Kalvari class (Scorpene) submarine, has 49 per cent (in terms of value of production) import content in its products – around 13 per cent increase in last five years.
The report ascribes this negative trend "to the procurement of high value items nominated by DCNS, France (collaborator), imported for P75, Scorpene class submarine project under Transfer of Technology contractual agreement."
According to report, Ordnance Factory Board has 12 task forces to achieve the objective of indigenisation in a time bound manner. In last three years, board has reduced the foreign content to around 12 per cent from 15 per cent.
The report does give an idea of the way things are but most certainly the fine picture could be different as many of the locally procured products could either have foreign content or are being manufactured through imported technology where the level of technology absorption will be very difficult to ascertain. It's been almost two decades since government opened the defence sector to private players to increase the production capacity as the public sector were failing to deliver locally developed weapons system.
But the picture has not improved much. The private sector is still far from delivering locally designed and developed weapon system and the public sector in spite of continued governmental support has not changed. It is time to re-evaluate the 'Make in India' programme as merely numbers is not the story of indigenisation, the real story is who owns the core technology and how capable are Indian firms in developing core technology for products being manufactured through ToT.
The procedures and policies need to be revised to seal the loophole which allow the Indian manufacturers to continue with the non deliverance in terms of technology. Government must come with a policy to ensure companies invest in research and human resource so that they have the required capability for technology absorption and reverse engineering. Although, defence manufacturers – both public and private – profess to develop technology but only time will tell whether they will come up with next generation products in coming years or not. This should be the only parameter to evaluate the indigenisation numbers.