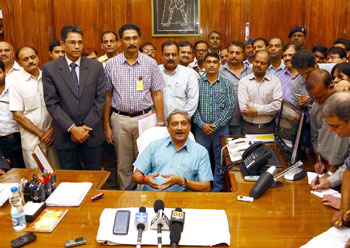 Shri Manohar Parrikar interacting with the media after taking
charge as new Defence Minister, in New Delhi on November
10, 2014.
Shri Manohar Parrikar holding a meeting with the senior
officials of the Minis try and Armed Forces after taking charge
as new Defence Minister, in New Delhi on November 10,
2014. The Minister of State for Defence, Rao Inderjit Singh,
the Defence Secretary, Shri R.K. Mathur, the Secretary
(Defence Production), Shri G Mohan Kumar, the
Secretary Ex-Servicemen Welfare, Shri Prabhudayal Meena,
the Chief of the Air Staff, Air Chief Marshal Arup Raha, the Chief
of Naval Staff, Admiral R.K. Dhowan and the Chief of Army Staff,
General Dalbir Singh are also seen.
The Defence Minister Shri Manohar Gopalkrishna Prabhu Parrikar today said, he would maintain the fast pace of acquisition set in motion by the Government for the Defence Forces while ensuring transparency at every stage. Taking over as the 36th Defence Minister of the country, Shri Parrikar said, his predecessor Shri Arun Jaitley has initiated work on many issues relating to Defence despite several constraints and that he is confident of taking these steps forward with speed. Shri Parrikar expressed his thanks to the Prime Minister Shri Narendra Modi for reposing confidence in him and entrusting him with this important and sensitive Ministry.
Referring to the 'Make in India' drive of the Government, Shri Parrikar said, the measure will not only lead to self-reliance in Defence manufacturing but also generate employment and would ultimately contribute to economic development.
He said, earlier technical skills used to be handed over from one generation to the other but that tradition is gradually vanishing. It is for this reason, we have to train people to acquire not only traditional skills but also new skills.
Shri Parrikar expressed his anguish at the sinking of a Naval vessel off the Coast of Visakhapatnam and the earlier incident of an explosion in a submarine.
Earlier, on his arrival at the South Block, this afternoon, Shri Parrikar was received by the senior officials of the Ministry of Defence including the Defence Secretary Shri RK Mathur. The Minister of State for Defence Rao Inderjit Singh and the three Service Chiefs also called on him and greeted on assumption of office.
A Profile
Shri Parrikar was born in Mapusa, Goa on December 13, 1955. He studied at Loyola High School, Margao and completed his secondary education in Marathi. He graduated from Indian Institute of Technology (IIT), Bombay in 1978 in Metallurgical Engineering. He was awarded by the institute with Distinguished Alumnus Award in 2001.
Before being inducted into the Union Council of Ministers on November 09, 2014, he was the Chief Minister of Goa, first from 2000 to 2005 and later from March 2012 to November 2014. Shri Manohar Parrikar is the first IIT graduate to become a Chief Minister of any Indian State.
Shri Manohar Parrikar is credited with singlehandedly bringing the International Film Festival of India (IFFI) to Goa and creating more international quality infrastructure for the event in a short time than any other former Government. He was instrumental in initiating various social upliftment schemes like Dayanand Samajik Suraksha Yojana, which provides financial assistance to senior citizens, the Cyberage Scheme which provides computers to students, Chief Minister Rojgar Yojana, etc.
Known to be a man of action and principles, Shri Parrikar is known as 'Mr. Clean' in Goa.