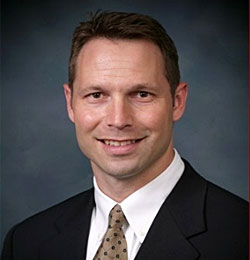 Alliant Techsystems Inc. ("ATK" or the "Company") announced today that Stephen S. Clark will serve as Vista Outdoor Inc.'s Senior Vice President for Human Resources and Corporate Services.
Mr. Clark will have overall responsibility for all human resources functions, including strategic human resource planning, compensation and benefits, human resources shared services, organizational development, talent management and corporate services including security services and facilities.
"Steve will be a great addition to our strong and experienced Vista Outdoor leadership team," said Mark DeYoung, ATK President and Chief Executive Officer and future Chairman and Chief Executive Officer of Vista Outdoor. "Steve's extensive leadership experience in global, publicly traded companies serving branded product customers and his proven ability to organize, develop and improve human resources and corporate services support our commitment to operational excellence and the creation of long-term shareholder value. He will be a critical part of our focus on efficiently developing and enhancing our human resources while expanding our leadership position in the outdoor recreation industry."
Most recently, Mr. Clark served as Senior Vice President and Chief People Officer for the H.J. Heinz Company. He joined Heinz in 2002 and held various and increasing leadership roles within the human resources function. Mr. Clark was the director of staffing for the Salt Lake Organizing Committee (SLOC) for the 2002 Olympic and Paralympic Winter Games from 1998-2002. He also served in human resources management positions for Pizza Hut, Inc. from 1995-1998.
Mr. Clark earned a master's degree in Organizational Behavior and a bachelor's degree in Psychology and French from Brigham Young University.
As previously announced, ATK and Orbital Sciences Corporation ("Orbital") (NYSE: ORB) have entered into a transaction agreement, whereby ATK's Aerospace and Defense Groups will merge with Orbital immediately following the spin-off of ATK's Sporting Group business to ATK stockholders as a newly formed company called Vista Outdoor Inc. The companies anticipate completing the transaction in February 2015, subject to the satisfaction of remaining closing conditions, including the approval of both ATK's and Orbital's stockholders at special meetings scheduled for January 27, 2015. Additional information concerning Vista Outdoor and the proposed spin-off is contained in Vista Outdoor's registration statement on Form 10.
Vista Outdoor will be headquartered in Utah, an outdoor recreation hub for manufacturers and recreational-equipment suppliers to the outdoor industry. The company will have approximately 5,800 employees across the U.S. and internationally. The company's widely known and respected brands include: Federal Premium, Bushnell, Savage Arms, BLACKHAWK!, Primos, Final Approach, Uncle Mike's, Hoppe's, RCBS, Alliant Powder, CCI, Speer, Champion Targets, Gold Tip Arrows, Weaver Optics, Outers, Bollé, Cébé, and Serengeti.