Akash Blasts Through Training User Tests
By SP's Special Correspondent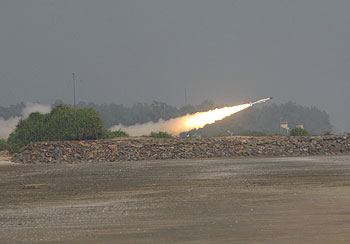 November 24, 2014: The indigenous Akash SAM system, already in service with the Indian Air Force and Indian Army, has just completed a high-tempo series of training user trials with a high degree of success and satisfaction to the end user. Over five days this week, nine tests were conducted, testing all parameters of the missile, including low level and high level engagement of British-built Meggitt Defence Systems Banshee Jet 80 target drones. In a major confidence-booster, the in-service weapon system has acquitted itself with flying colours, paving the way for the next lot of improvements to the system as part of an Akash Mk.2 extended range profile, as well as exports to other countries that have evinced interest in the system. The tests include a simultaneous launch of two Akash missiles against aerial targets, destroying them respectively at ranges of 11 km and 24 km, just shy of ceiling range. The training user trials were a high-pressure exercise conducted at the Integrated Test Range involving nine missiles randomly selected from the the production line at one of the three production agencies. The IAF currently has eight Akash squadrons, and is interested in acquiring more. The Army operates two Akash regiments and has already expressed a requirement of more such systems with minor modifications.