Obama Coming, Indo-US Copter Deals Imminent?
By SP's Special Correspondent
Photo Credit: PIB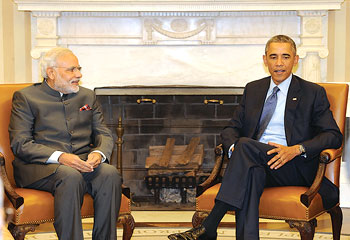 November 24, 2014: U.S. President Barack Obama's consent to be chief guest at India's Republic Day 2015 celebrations has sparked word that some pending Indo-US defence deals could be cleared before his arrival in New Delhi. An indication that key decisions could be afoot in the coming days was visible in the White House statement on President Obama's forthcoming visit to India, where it said, "The President will meet with the Prime Minister and Indian officials to strengthen and expand the U.S.-India strategic partnership." Finalised deals currently pending include contracts for 22 Boeing AH-64D Apache Block III attack helicopters and 15 Boeing CH-47F Chinook heavy lift helicopters. Other deals on the table include contracts for additional Boeing C-17 Globemaster III aircraft as a follow-on to the 10 already under delivery, and the proposed acquisition of 145 BAE Systems M777 ultra-light howitzers, an effort that reportedly is active once again. While deals are usually never signed during high-level visits, both sides will be looking to conclude them before President Obama's visit as a sweetener once he lands in Delhi to take discussions on strategic partnership forward. The IAF has indicated that it has waited long on these two acquisitions and requires an early contract signature in order to receive the aircraft on time.