Agni V Enters Service This Year
By SP's Special Correspondent
Photo Credit: DRDO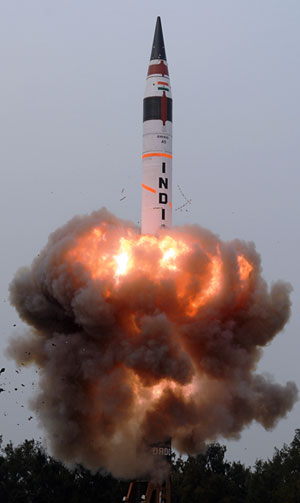 February 2, 2015: The Agni V ballistic missile, India's longest range nuclear delivery system, enters service by the end of this year. At this stage, top sources say development test routines are complete, with the system to be handed over to the Strategic Forces Command (SFC) to populate deterrent units in the country. The road-transportable canisterised system, which will be standard on the Agni V going forward is ready in all respects for deterrent duty, outgoing DRDO chief Dr Avinash Chander has indicated. Top sources said that there was the possibility of one final test being conducted towards the middle of this year to fine tune certain navigational aspects of the missile's performance, but that they were satisfied with the outcome of the cold launch from a hermetically sealed canister that for the first time provides immense deployment flexibility and survivability. With the Agni III already in service, the Agni V will replace it as the longest range strategic weapon in India's nuclear arsenal. The Agni IV has already been inducted into service too. According to DRDO, the earlier two flights of Agni V, fully successful, were in open configuration and had already proved the missile. "Saturday's launch from a canister integrated with a mobile sophisticated launcher, was in its deliverable configuration that enables launch of the missile with a very short preparation time as compared to an open launch. It also has advantages of higher reliability, longer shelf life, less maintenance and enhanced mobility," the DRDO said in a statement.