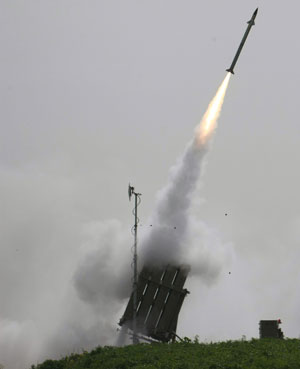 February 9, 2015: Given the quantum of defence business that flies from Israel to India, it's something of a surprise that this will be the first year that an Israeli defence minister will grace an Aero India. Moshe Ya'alon will be at the Yelahanka show this year accompanied by a delegation 100-strong from Israeli defence industry, many already well-versed with the Indian market, but many looking for emerging opportunities. Israel's defence exports to India in 2014 amounted to a very healthy $2.5 billion, making it the third largest supplier of advanced military equipment to India after Russia and the U.S.
The visit comes three months after India and Israel conducted the first test of the Barak-8/LRSAM surface to air missile system, a system expected to see further testing this year. The Israeli defence minister's personal presence at the show this year is also being seen as a show of personal importance, given that it comes shortly after Russian defence minister Sergei Shoigu and U.S. president Barack Obama both furthered bilateral defence cooperation with India at recent visits. The Israeli defence minister and his delegation may conclude deals upwards of $1 billion during his visit to Bengaluru.
Fifteen Israeli companies, including standard attenders IAI, Rafael and Elbit, will be at the show this year putting on display an array of brand new systems and announcing opportunities for tie-ups with Indian firms. The companies forming the Israeli pavilion are highly specialised in their solutions and products and will be specifically looking for Indian partners. The companies coming this year include ACCUBEAT LTD, which supplies frequency & time synchronization products based on Rubidium Atomic Clock (Frequency Standards) and GPS receivers. AEROMAOZ LTD develops, manufactures and markets ruggedized HMI and control systems for commercial & military applications. AL CIELO INERTIAL SOLUTIONS LTD specializes in the research, development, manufacturing and integration of laser technologies and navigation and control inertial sensors. ASTRONAUTICS C.A LTD. is a hi-tech defence systems supplier, with a record battlefield proven products within the Israeli military, which includes airborne, naval and ground forces systems and solutions.
The companies from Israel this year, as always, will be a healthy mix of tier-1 and other tier suppliers of both fully integrated battle solutions and platforms, as well as advanced sub-systems, sensors and electronics, in addition to turn-key upgrade solutions for existing inventory of equipment in the Indian armed forces. Sources say the Israeli delegations will also be coming armed with a slew of unilateral offers for 'improvement' of certain Indian armament inventories, including artillery, rockets, unguided bombs, avionics, helicopter survivability equipment etc.
For instance, CONTROP PRECISION TECHNOLOGIES LTD., which has been to Aero India before, specializes in the development and production of Electro Optical InfraRed (EO / IR) observation, scanning, reconnaissance and surveillance systems and solutions for Military, Para-Military and Homeland Security applications. CONTROP products include day and night Camera Payload Systems, Intruder Detection Systems for border, coastal and perimeter security, Night Vision / Thermal Imaging Cameras, Stabilized Gimbals and more. ELMO MOTION CONTROL LTD. designs, manufactures, and markets servo drives and network motion controllers for customers in Israel. OPGAL OPTRONIC INDUSTRIES LTD. is a manufacturer of advanced infra red thermal imaging solutions for the defence, security, industrial, and aviation markets. ORBIT COMMUNICATION SYSTEMS LTD. is a provider of superior performance communications equipment and solutions for airborne, maritime and ground applications including Maritime Satellite Communications solutions, Earth Observation and Remote Sensing ground stations to track LEO and MEO satellites, Telemetry systems for tracking missile launches and airborne platforms, and Communication Management Solutions. ORBIT FR ENGINEERING LTD. provides antenna, RCS and radome measurement solutions for the defence, aerospace, telecommunication, automotive, academic and research communities. ORION ADVANCED SYSTEMS LTD., which has been to the show before, (formerly the GED Division of Motorola Israel Ltd.), is a world leader in the design and manufacture of fuzes for aerial munitions with over 35 years experience. Orion's fuzes have been qualified by the Israeli Air Force for use with their aircraft and weapons systems and meet their rigorous standard safety requirements. Orion's product range covers the full spectrum of fuzes for aerial munition.
In 2013 at the Aero India show, Rafael Advanced Defense Systems Ltd displayed its 'Game Changer'; complete Air and Missile Defence Systems, including the IRON DOME - active defence system against short range artillery rockets; DAVID'S SLING (STUNNER) - multi-mission, multi-platform interceptor; SPYDER SR/MR - Family of Short and Medium Range Air Defence systems; PYTHON-5 - Full sphere air-to-air IR missile and air defence missile; DERBY - Beyond visual range air-to-air missile and air defence missile; MIC4AD- Modular, Integrated C4I Air & Missile Defence System. The company is back this year with a healthy array on show, including some undisclosed new products that are currently under development. ISRAEL AEROSPACE INDUSTRIES LTD. will be putting on display its full inventory of products, including a dummy of the Barak-8 that was tested for the first time in November last year. At Aero India 2015, IAI will showcase its wide spectrum of total solutions and will concentrate on solutions tailored for India's specific needs and requirements. ELBIT SYSTEMS LTD., a well known maker of unmanned air systems and electronic/upgrade solutions for existing military inventory -- they will have a large presence at the Aero India show this year. Elbit will focus on helicopter solutions, from platform upgrades and pilot helmet display system to helicopter protection systems such as DIRCM systems, unified self-protection suites, integrated EW suites and more. Elbit, which introduced the Hermes® 900 Unmanned Aircraft System in a new configuration adapted to maritime missions at the show two years ago, is expected to unveil some solutions targeted specifically at India this year.