By Lt. General P.C. Katoch (Retd)


Former Director General of Information Systems, Indian Army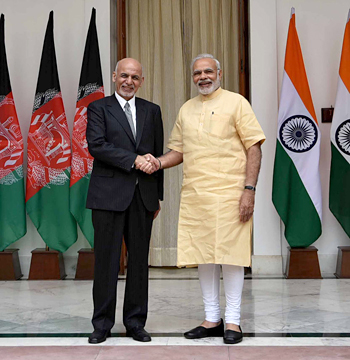 The Prime Minister, Narendra Modi with the President of Afghanistan, Dr. Mohammad Ashraf Ghani, at Hyderabad House, in New Delhi on September 14, 2016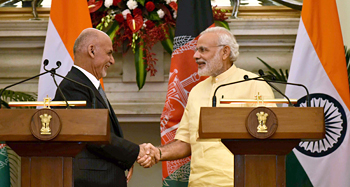 The Prime Minister, Narendra Modi with the President of Afghanistan, Dr. Mohammad Ashraf Ghani, at Hyderabad House, in New Delhi on September 14, 2016
Afghanistan President Ashraf Ghani's recent visit came at a time when Pakistan's exposure as a generator of terrorism has gained momentum. Not only have countries India, Afghanistan and Bangladesh pointed out Pakistan as the crucible of terror, Prime Minister Narendra Modi's recent statements at the G20 and ASEAN meets accusing Pakistan, without naming it, for terror attacks evoked no sympathy for Pakistan, not even by China, Saudi Arabia and Turkey who Pakistan considers her closest friends. To add to this, in candid discussions during a US Senate panel on September 9, US senators openly accused Pakistan for killing American soldiers in Afghanistan through proxies after perfidiously skimming US taxpayer dollars. Calling Pakistan duplicitous and supported by expert witnesses, including a former CIA station chief who served in Islamabad, they threatened further aid cuts to Pakistan that has long lived on American and western doles when it is not extending its begging bowl towards Saudi Arabia and China for more crumbs. Separately, US State Department Deputy Spokesman Mark Toner asked Pakistan to act against terror groups targeting its neighbours and not just the ones that pose a threat to it, alleging Pakistan was going after terror groups 'selectively'.
Gen John W Nicholson heading US and NATO forces in Afghanistan recently called for India to step up security assistance to Afghanistan. Smarting under such call, Pakistani English language daily 'The Nation' reported that Islamabad had warned the Barack Obama administration that "preferring New Delhi over Islamabad could hamper the global campaign against terror" — warning by a minion that refuses to shut down her terror hatcheries. Modi had visited Afghanistan in June to inaugurate the $290 million hydroelectric India-Afghanistan Friendship Dam (earlier called Salma Dam), and inaugurated Afghanistan's new parliament complex in Kabul in December last, built by India at estimated cost of $90 million. Just before his visit to India, Ghani during his meeting with Owen Jenkins, UK's special envoy for Afghanistan and Pakistan had stated, "If Pakistan does not allow Afghan traders to use the Wagah border for imports and exports of their goods, Afghanistan will also not allow Pakistan to use Afghan transit routes to reach Central Asia and other countries for exports."
Trade with India through the land route via Wagah will help uplift Afghan economy as also individual Afghani entrepreneurs trading with India. Afghanistan's goods, mostly fresh fruits are offloaded in Wagah and then carried in carts up to Attari and loaded on again, adding to the transportation cost and significant spoilage. Afghanistan wants Pakistan to allow transportation of its fruits to Attari and transfer to Indian trucks in a back to back arrangement, which can double or triple Afghanistan's fruit exports to India. However, Pakistan has protested that this is not part of the trade and transit treaty the two countries have. Ghani's visit was preceded by the visit of General Qadam Shah Shahim, Afghan national Army Chief to India.
During Ashraf Ghani's visit, Prime Minister Narendra Modi offered Afghanistan a fresh $1 billion in economic assistance, reiterating India's commitment to help strengthen Afghanistan's education, health, agriculture and other sectors. Both leaders called for an end to sponsorship and support of terrorism without naming Pakistan; while discussing the regional situation they expressed grave concern at continued use of terrorism and violence in the region for achieving political objectives. In general, both called upon the concerned to put an end to all sponsorship, support, safe havens and sanctuaries to terrorists, including for those who target Afghanistan and India, however, the indirect specific was obviously aimed at Pakistan. Both sides also signed three agreements - extradition treaty, cooperation in civil and commercial matters and the memorandum of understanding on cooperation in peaceful uses of outer space. Both leaders said they looked forward to the resumption of India-US-Afghanistan consultations in New York later this month. While there was no mention of weapons and armament support to Afghanistan, latter's priority wish list includes more utility and attack helicopters, artillery, ammunition and spares in addition help in reviving some of the Soviet era factories India may be open in supplying such hardware, but in case of Russian-origin hardware technical support and provision of spares need to be coordinated with Moscow through a three-way discussion.
India, the fifth largest bilateral donor in Afghanistan, has been a key supporter of Kabul's government and has poured more than $2 billion into the country since the Taliban was toppled in 2001. At a time when the Pakistan supported Taliban is making gains in Afghanistan and the Afghan government is under intense pressure from multiple terror groups like ISIS, Al Qaeda, Afghan and Pakistan Taliban, as well as Pakistan based Haqqani Network, LeT, JeM, LeJ etc, all in the backdrop of poor economic situation, pending political reforms and parliamentary elections, India-Afghanistan cooperation is essential for stability of Afghanistan and the region, where rogue Pakistan refuses to mend her ways.
Photo Credit: PIB