By Lt. General P.C. Katoch (Retd)


Former Director General of Information Systems, Indian Army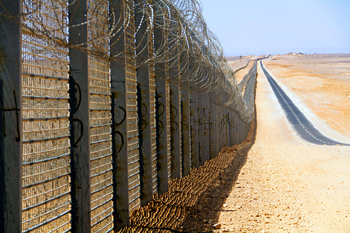 Israel—Egypt barrier
Post the visit of Home Minister Rajnath Singh to Israel last year and Pakistan's heightened hostility and persistent infiltration attempts, the government appears all set to install an Israel type of fence along our western border. Rajnath has announced the government decision to seal the entire stretch of 3,323-km-long Indo-Pak border (1,225 km in J&K, 553 km in Punjab, 1,037 km in Rajasthan and 508 km in Gujarat) by December 2018. Despite the surgical strikes conducted on certain terrorist launch pads in POK on September 28, Pakistan is all set to infiltrate large number of terrorists into India. The Home Minister has also said that the development of the procedure will be done in a planned way, with a monitoring framework set up to review the progress, monthly, quarterly, bi-annually and annually. On the question of securing the riverine belts, and areas where it is geographically unfeasible to put physical barrier along the border, Rajnath said that the government will look into technological solutions to ensure every inch of our land is guarded. Infiltration has also been attempted through the international border in Punjab and J&K in addition to trans-border smuggling of goods, narcotics and fake Indian currency in Punjab, Rajasthan and Gujarat.
In J&K, a 407 km border long border fence in high threat areas has been erected but gaps between posts can only be covered through patrolling or ambushes which spreads the security forces thin on the ground and is not 100% foolproof despite best efforts especially in hours of darkness, fog and adverse weather. Pakistan has been employing heavy cross-border firing to assist infiltration and terrorists have also been using explosives to make gaps in the fencing or dig holes under the fence. In addition, heavy snows buried the fence especially in north Kashmir and large portions are also destroyed annually because of avalanches. The new fence tried out in consultation the Snow and Avalanche Study Establishment (SASE) uses stronger material and will have night-vision cameras, alarms and visual map displays integrated with the fence, all linked to a monitoring room, giving the local military commanders real-time data enabling quick reaction against any attempt to tamper with the fence.
The fence is also proposed to be lit up using LED lighting where feasible. Existing fence in Jammu Sector is already lighted. In the plains sectors of Punjab, Rajasthan and Gujarat, fencing already exists in most areas and a dozen laser walls have been installed in Punjab in areas prone to infiltration including riverine gaps. There is no denying that we need to optimize technology integration all types of surveillance devices including tilt cameras, seismic, IR and unattended ground sensors etc. In addition, troops must have adequate number of night vision devices (NVDs), night vision goggles (NVGs) and hand-held thermal imagers (HHTIs) which presently are in very limited number. Induction of the Battlefield Surveillance System (BSS) and Battlefield Management System (BMS) in the Army, and equipping Infantry with hand-held Mini Aerial Vehicles (MAVs) must be accelerated. Our surgical strikes into POK on September 28 were monitored by Cartosat-2, but we also must have 24x7 satellite surveillance along our borders both with Pakistan and China. China already has continuous surveillance along the Line of Actual Control with India.
It should be a matter of grave concern to us the recent transgression by China in Arunachal Pradesh was only noticed when it was 45 km deep and the Chinese were in the process of making some structures, as was reported in the media. With the Kashmir Valley having gone into the grip of Wahabi-Salafi culture with sustained effort of Pakistan and lackadaisical approach on our part, it would also be prudent to create a no-man's belt along the LoC to enable any movement within such belt can be fired upon. This would deter terrorist infiltration as well as guides and sympathizers marrying up with terrorist-infiltrators own side of the border. We may not mine the entire border but patrols could keep beefing the fence with IEDs. The government must also revive the Army's Technical Support Division (TSD) that the previous UPA government had disbanded to great advantage of Pakistan's ISI. Though Israel has evinced interest in assisting India in fencing the border, no deal has apparently been signed. Whatever be the case, we need to hasten sealing our border with Pakistan in addition to working on avenues other than across the Indo-Pak border that Pakistani infiltrators would exploit.