By Lt. General P.C. Katoch (Retd)


Former Director General of Information Systems, Indian Army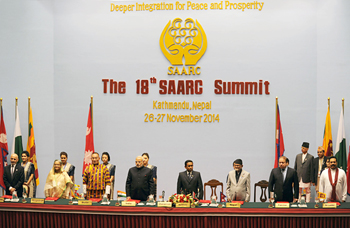 PM Narendra Modi at the inaugural session of the 18th SAARC Summit, in Kathmandu, Nepal, on November 26, 2014
Pakistan is blaming India for pulling out from the upcoming South Asian Association for Regional Cooperation (SAARC) meet scheduled to be held in Islamabad in November. As per the Dawn News of Pakistan, following India's refusal to participate Bangladesh has also said it was pulling out, and that Afghanistan and Bhutan - both close India allies - have since followed suit, according to an official with the Nepali government, current chair of SAARC. According to our MEA's press release, "India has conveyed to current SAARC Chair Nepal that increasing cross-border terrorist attacks in the region and growing interference in internal affairs of member states by one country have created an environment that is not conducive to the successful holding of the 19th SAAEC summit in Islamabad. That is why we have pulled out of the SAARC summit." The decision on cancelling Indian participation was taken even as discussions continued about steps such as reviewing the MFN status for Pakistan following the Uri attack.
Nepal said it hoped the issues would be resolved but could not comment on whether the summit would go ahead but said Jhabindra Aryal from Nepal's Foreign Ministry said, "The host will take decisions regarding the summit." Pakistan has said the SAARC summit is "postponed" taking shelter behind the SAARC charter that any such conference would be postponed should any of the eight member state decline to participate. This was expected after the Pakistan sponsored dastardly terrorist attack in Uri and instead of agreeing to investigate the attack, Nawaz Sharif is blaming R&AW to have orchestrated the Uri attack on own army. Pakistan's foreign office released a statement saying, "Indian intentions of creating hurdles yet again is visible from the actions and statements at the political level during the last two months coupled with coordinated media efforts", adding that India is desperate to divert the international community's attention from the Kashmir issue.
The fact is that Pakistan by her actions has got herself in a tight spot of being isolated in the world, trying to internationalize the Kashmir issue on which she has no legal standing. India's decision surely is unprecedented being the first time that India has cancelled participation in the SAARC meet but then it was more than warranted with the Uri attack, following the Pathankot airbase strike in January and more attacks in Pampore in February and October. Though views are being expressed that India's cancellation might handicap economic integration in South Asia since India and Pakistan are the two largest economies in South Asia, the fact is that Pakistan has consistently played 'dog in the manger' by blocking land access between Afghanistan and South Asia and vice versa, not even acceding to Afghanistan's request to permit use of Wagah border to do trade with India. Moreover, during the South Asian Home Ministers Conference held in Pakistan this August, requisite diplomatic courtesies were not extended to Home minister Rajnath Singh. This, despite the huge diplomatic initiative taken by Prime Minister Narendra Modi of inviting all SAARC heads for the swearing in of his government in 2014.
It was also significant that when PM Modi announced multiple new initiatives at the SAARC summit in Kathmandu at the end of 2014. But Pakistan's reluctance to sign the South Asian Motor Vehicle Agreement, that was ready for signature at the Kathmandu summit. Pakistan's embrace of China has made it very apparent that Pakistan is not bothered about any other regionalism. In fact, after China's announcement of the $ 47 billion investment in CPEC and post PLA troops having set foot in Gilgit-Baltistan, Pakistani terror attacks have actually gone both sides of her border; in India and Afghanistan. Pakistan's policy of terrorism is not going to be abandoned.
Sri Lanka has recently expressed concern over the issue of cross border terrorism. Bangladesh's Information Minister Hasanul Haq inu recently on a visit to India stated, "Pakistan is still continuing a policy of harbouring terrorism that is very sad for the Subcontinent." Earlier, during the last NATO summit in Warsaw, Afghan President Ashraf Ghani had said, "Peace initiatives taken by Afghanistan with Pakistan are not successful as Pakistan differentiates between good and bad terrorists in practice." SAARC should, therefore, let Pakistan cook in its own stew and integrate leaving Pakistan out, with Afghanistan linked though Chahabar and Zahedan. In fact, there is fit case for India and Afghanistan to stop trade with Pakistan.
Photo Credit: PIB