By Lt. General P.C. Katoch (Retd)


Former Director General of Information Systems, Indian Army
M777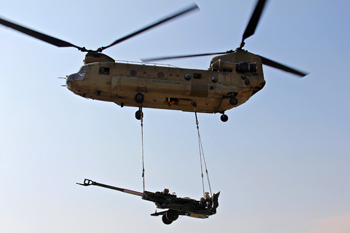 CH-47 Chinook helicopter flies off with an M777 howitzer
After almost seven years of discussion, trials and choosing, India and the US today inked a nearly Rs 5,000 crore deal for 145 x M777 ultra-light howitzers; India signed the Letter of Acceptance (LoA) on November 30, which formalized the agreement. This breaks the decades long jinx of our artillery having been starved of inducting new artillery guns after the Bofors scandal, following which India blacklisted the Swedish firm. The blacklisting resulted in drying up the supplies of spare parts and assemblies for these guns also. In fact, during the Kargil, Conflict, of the 400 x Bofors guns imported, only quantity 100 could be cannibalized.
The deal for the 145 x BAE Systems ultra-light howitzers was recently cleared by the Cabinet Committee on Security (CCS), following which it was inked during the 15th meeting of the India-US Military Cooperation Group (MCG) at New Delhi. The offsets, under which BAE Systems, manufacturer of the gun, will invest about $200 million, will be pursued independently. While 25 guns will come to India in a fly-away condition, the rest will be assembled at the proposed assembly integration and test facility for the weapon system in India in partnership with Mahindra. The first two howitzers will be delivered within six months of the contract being inked, while rest will be delivered at the rate of two per month. Earlier, media quoting MoD sources, had reported that Pentagon's LoA to sell 145 x M777 155mm/39-calibre light-weight howitzers to India had expired since it was valid till November 5, 2016, and the CCS approval was yet to be obtained. This created a doubt whether the deal would fall through at all. But apparently the validity of the LoA was extended by the US. Army had successfully tried and selected BAE Systems M777 155mm/39-calibre light-weight howitzers guns from the US years back but the procurement was stymied over an anonymous letter alleging bribes. Inking if the Indo-US deal for the guns ex BAE Systems is good news coming at a time when artillery's holdings of Bofors guns has also dwindled from the 400 imported to below 200. 180 pieces of 130mm/39 calibre M-46 Russian guns have been upgraded to 155mm/45 calibre by Soltam of Israel. In addition in 2012, tenders had been floated for 1,580 towed guns of 155mm/52 calibre, 100 tracked guns of 155mm/52 calibre and 180 wheeled and self-propelled guns of 155mm/52 calibre but provisioning of these would take many years.
The Army has some 264 artillery regiments but most of them are equipped with the 1970's era of 105mm Indian Field Gun (IFG), in addition to some regiments equipped with 130mm M-46 howitzer guns Supplied by the Soviet union in 1960's. The latter howitzer guns have been upgraded to 155 mm but such upgraded howitzer guns can hardly compete with modern computer aided artillery howitzer guns in warfare. The Army's long-term plan to replace these with 155 mm howitzers recently received a boost after DRDO produced the 'Dhanush' based on specification and manufacturing know how received under Transfer of Technology (TOT) more than three decades ago from Bofors of Sweden. Dhanush was cleared for production after extended field trials in mountains and deserts. As per reports, Army is to initially order 114 x 155mm, 45-calibre howitzer 'Dhanush' to equip a number of medium artillery regiments. Subsequently, Army is to reportedly place an order for another 300 or more Dhanush guns. However, the yearly capacity of the Ordnance Factory Board to produce the 'Dhanush' gun was only 16 till last year. There were plans to increase the yearly production rate to 36 during year 2016 but whether this has been affected is not known. But even if the production is increased to 36 per year, it will take more than a decade to equip the artillery with 400 plus of Dhanush guns. Acquisition of the 145 x M777 155mm/39-calibre light-weight howitzer guns simultaneous to the indigenous Dhanush will provide the much needed boost to the artillery. The M777s are ideal for mountains. Besides they can be airlifted swiftly to beef up high-altitude areas along the Line of Actual Control (LAC) with China in emergent situations. These guns will also be mainstay ordnance for artillery regiments of the Mountain Strike Corps.
Photo Credit: BAE Systems, US DOD