By Lt. General P.C. Katoch (Retd)


Former Director General of Information Systems, Indian Army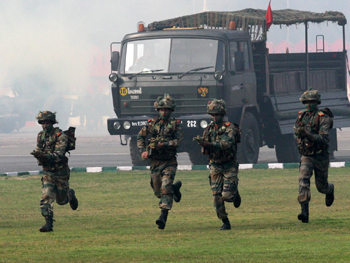 Media reports headlining urgent arms deals of Rs 20,000 crores have been signed to keep the Armed Forces "ready" create an impression that all is going to be hunky dory in a jiffy is misnomer. If you read between the lines, the reports are talking of only ammunition. More significantly, the noise is being made over the fact that government wants to ensure military must have sufficient ammunition to fight for at least 10 days. As per operational requirements, the Army is required to hold War Wastage Reserves (WWR) sufficient for 30 days of "intense" fighting plus 30 days of "normal" fighting (total of 60 days) but these have been allowed to deplete as part of the neglected defence capability past several years. Nothing much happened when the letter by General VK Singh, then Army Chief (now MoS External Affairs) wrote to then Prime Minister Manmohan Singh about the critical deficiencies in the Army, including ammunition holdings. Though the letter was deliberately leaked to the media because of ulterior motives, there was total inaction for making up the critical voids.
Now this news about making sure that at least 10 days worth of ammunition for fighting will be made available does not cut much ice. Can the government vouch that any future war will end in 10 days? If not, does the government plan to request the enemy take a break midway in battle so that we can procure more ammunition. But that is not all. Experience will tell you that it usually takes number of years before a deal is inked and its fructification. One example is the "emergent" procurement of 50,000 bullet proof jackets announced by Defence Minister Manohar Parrikar which have still not fully fetched up, even as the overall deficiency of bullet proof jackets in the Army shot past the figure of 3,50,000 during 2016. Now if that is the norm for just bullet proof jackets, in what timeframe will ammunition of various types worth Rs 20,000 crore be procured? Sure, the CAG has taken note of critical shortage of ammunition when the alarming report was tabled in Parliament.
So has this media report been released to satisfy CAG's observations? The harsh truth is that the Finance Minister has presented a second successive budget that is 'negative' despite that heightening of tensions on the borders and the China-Pakistan anti-India nexus magnifying. Factually, the defence allocation made on February 1, 2017 and the hype about the 6% increase over the previous year's allocation is poor attempt to whitewash the 10-15% annual increase in defence costs. Given the meager defence allocation of Rs 2.74 lakh crore, Rs 86,500 crore of which is for capital expenditure, can the government really buy Rs 20,000 crores of ammunition from the revenue budget given the rising manpower costs including for accretion manpower on account of new raisings, which would entail salaries, 7th CPC hikes, food, clothing, tavel, medical etc, even if pensions are not part of the announced defence budget.
So in all probability, the same old tactics of 'red tape' will be applied — spreading this procurement over years. Despite painting the optimistic note, media obviously is privy to the true picture when elaborating that while the 2017-18 may not have allocated much, but the Armed Forces are "gung-ho about the fast-track procedure now in place to ensure 'serviceability and availability' of existing weapon systems and platforms. Now who are we fooling? Sure the government has set up empowered procurement committees under the Vice Chiefs of the three Services with emergency financial powers to make up deficiencies in stockpiles, and "some" contracts have been concluded by the Army and the Air Force, but have sufficient funds been put aside for these empowered committees to make up the critical voids? The fact is that there are enormous critical deficiencies in a host of components of operational components, not just ammunition. Have we forgotten that General (later Field Marshal) SHFJ Manekshaw had told then Prime Minister Indira Gandhi that he would need few months of preparation, even though the PM wanted immediate intervention in East Pakistan (now Bangladesh). We cannot have such luxury when enemy is attacking us. It is time the accumulated critical deficiencies and their adverse strategic fallout be taken more seriously. Obviously, the media that can build public pressure on policy makers will remain disinterested with most reportage on killings, rapes, loots or issue like Jallikattu, 'resort warfare, by chief minister hopefuls of Tamil Nadu and the like.
Photo Credit: Indian Army