By Lt. General P.C. Katoch (Retd)


Former Director General of Information Systems, Indian Army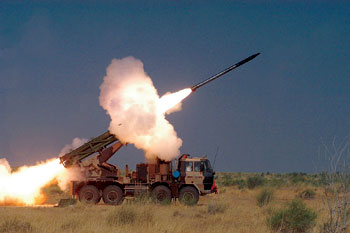 In January 2015, Mark-II version of Pinaka rocket system was successfully tested to its full range where it was able to destroy its targets 60km away. Two years later, on 12 January 2017, India successfully test fired the extended 65 km range Pinaka Rocket System from the Integrated Test Range (ITR) launch pad at Chandipur in Odisha. This 'Guided Pinaka' is a modified version of the Pinaka rocket; equipped with a navigation, guidance and control kit. This conversion has enabled enhancement of the strike range and accuracy of the Pinaka. The test firing met all desired parameters. The Guided Pinaka has been developed jointly ny the Armament Research & Development Establishment (ARDE), Research Centre Imarat (RCI) and Defence Research Development Laboratory (DRDL).
The Guided Pinaka Rocket system like MK-1 can carry 12 Rockets loaded with explosives which can be fired within 44 seconds and destroy a target area of four sq km at a time. As per earlier reports, Russia had backed out of providing technology transfer for rockets used in the Smerch multiple-launch rocket systems (MLRS) to India for Local production fearing India might develop its own long range rocket system from the experience gained from assembling Smerch MLRS . The Indian Army currently operates 62 Smerch MLRS Systems which has a maximum range of 90 km. India had brought Smerch MLRS Systems from Russia in 2006 and since then has been asking Russia to provide TOT for Smerch System to increase Indian Army's offensive weaponry capabilities, but it was not responded to by Russia. Therefore, India has gone ahead with indigenous extended range Pinaka. Only in November last year, MoD broke tradition from defence public sector undertakings (DPSUs) always designated as the original equipment manufacturers (OEM) for armament supply to Armed Forces and signed separate Rs 226 crore (Rs 2.26 billion) contracts with Larsen & Toubro and Tata Power (Strategic Engineering Division), designated OEMs for the Pinaka multi-barrel rocket launcher (MBRL) system. L&T and Tata Power (SED) have already supplied two Pinaka regiments to the Army between 2006 and 2010.
Now MoD is buying two more regiments of Pinaka MBRL at a cost of Rs 3,230 crore (Rs 32.3 billion). Now these companies will produce the third and fourth regiment of Pinaka MBRL for the Army. Significantly, cost negotiations for these two Pinaka regiments orders had been completed as far back as 2011. The fact that it has taken more than five years to place the order indicates that red tape continues unabated. In December 2015, MoD commenced the process of procuring six more Pinaka regiments for Rs 14,600 crore (Rs 146 billion) albeit the tender is yet to be issued. L&T and Tata Power (SED), designated OEMs, have 14% of the overall work share; developing the command post and launcher. Balance 86% is with multiple suppliers like Bharat Earth Movers Ltd (BEML) for the Tatra high-mobility vehicles on which the Pinaka is mounted, and OFB, which produces the rockets. The Army is looking at finally inducting 22 x Pinaka regiments to replace all the GRAD BM-21 systems; likely mix of the Mark I and Mark II Pinaka regiments. Army presently has two Pinaka Regiments, two more have been contracted and tender for another six regiments is in the offing — making it a total of 10 regiments.
With Pinaka totally indigenous, 100% intellectual property rights with India, and being competitive on global market both in capability and costs, there is considerable export potential. However, it would be prudent for MoD and the OEMs - L&T and Tata Power (SED), to first complete the requirements of the Indian Army, rather than going overboard with exports. Significantly, the production rate of the Pinaka rockets by OFB is very poor. FB failed to increase this annual capability from 100 to 5000 despite being allocated Rs 1,388 crore (Rs 13.88 billion), as pointed in the report of the Parliamentary Standing Committee on Defence dated December 22, 2014. The Army has reportedly initiated the induction of private defence companies in fabricating such ammunition. Should we export the Pinaka, adequate ammunition too would need to be exported as the buyers demand. India must keep working on developing rockets with even greater range; 75 kms to 120 kms and beyond.
Photo Credit: DRDO