By Lt. General P.C. Katoch (Retd)


Former Director General of Information Systems, Indian Army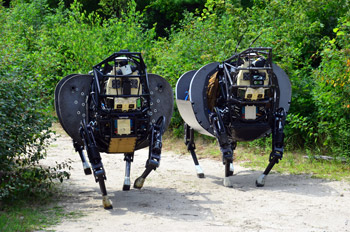 BigDog
As the battle for Mosul continues, the ISIS fights on with new technology. Tiny surveillance drones are employed to observe and report movement and positions of the attacking forces. These are followed by more tiny drones to drop explosive devices or to help guide suicide car bombers to target Iraqi attacking forces. This marks a new phase of terrorist organizations exploiting modern technology. What the ISIS are actually doing is hacking store-bought drones, using rigorous testing protocols and innovating tactics that mimic those used by US unmanned aircraft to adapt to diminishing numbers of fighters and a battlefield that is increasingly difficult to navigate on the ground. According to a media report, thousands of dollars of drone equipment was purchased in a single month from a large warehouse in a recently recaptured region, including purchase of wires, silicon, electrical plugs, cables, rotors, GoPro cameras, styrofoam wings, fins and radio transmitters.
In all, a half-dozen of the storehouses to make and modify the drones have been found recently in Mosul. Iraqi security forces report seeing drones used by IS for surveillance as early as 2015 in the fight for Ramadi in Iraq's western Anbar province. Drones loaded with explosives do less actual damage but do cause shrapnel injuries. However, the panic effect is considerable. One media report quoting an Iraqi Special Forces that at least three Iraqi troops had been killed by the drones and dozens injured, and that most of the drone parts were being purchased in Turkey and smuggled into Iraq through Syria while others were being largely made from scratch. These type of innovations are likely to be used by terrorists organizations elsewhere including by the Islamic State in Afghanistan as also used by Pakistan's ISI to heighten the proxy wars in India and Afghanistan. US Military's BigDog robot has an arm capable of flinging 50-pound (23kg) concrete cinder blocks across a room at high speed. BigDog, at 3 feet (0.9m) long and 2.5 feet tall, isn't all that big and if it can chuck 23 kgs across a room at high speed, imagine how far it would be able to throw grenades. This technology can perhaps also be eventually be optimized for removing obstacles and lifting casualties during conflict or retrieval of humans under debris.
At home the National Security Guard (NSG) has been equipped with a grenade-dropping drone, 3D fly-on-the-wall radar to see through a 20-metre-thick wall and a 'dogo robot' armed with a remote pistol. The force has an indigenous 'munition launcher system' that can carry a pair of 38 mm grenades to stealthily drop at the intended target with precision using an in-built spy camera. The latest addition is the Israeli 'dogo robot' that drags its 11.5-kg weight towards a holed-up terrorists and indicates to the SWAT team the exact position and arms and ammunition holding via a camera feed. It also sports a two-way encrypted audio system that allows the operator to listen and intervene in hostage situations without the flat device itself getting noticed. An unspecified number of 'dogo robot' have been purchased by the NSG at an individual cost of Rs 76 lakh each.
The 3D 'through wall radar' has a price tag of reportedly of over Rs 1 crore. It can be placed on the outside of a closed room like a fly-on-the-wall. This an upgraded version of the 2D variant which the NSG is understood to have used during last year's attack on the Pathankot IAF base. The 3D 'through wall radar' can see through a thick wall with an 80 degree field of view. NSG has also inducted the German PSG1 A1 sniper rifle, which carries an enhanced number of 20 rounds to engage and pin down targets for a longer time and is complemented with a longer range and extreme accuracy. The 7.2-kg rifle with telescopic sight is an upgrade of the PSG1 sniper variant used by the NSG till now. As security forces around the world are going in for enhanced use of drones, so will terrorist organizations. This requires greater monitoring and surveillance of drones, but more importantly the anti-drone weaponry to tackle single as well as multiple drones simultaneously. Our focus on ballistic missile defence (BMD) should not cause us to neglect the emerging threat of drones.
Photo Credit: DARPA