By Lt. General P.C. Katoch (Retd)


Former Director General of Information Systems, Indian Army
India has been fighting cross-border proxy wars, terrorism and insurgencies past three decades plus. The requirement of bullet proof jackets (BPJs) for every security forces fighter operating in counter insurgency and counter terrorist environment is the basic necessity. The fact that requisite BPJs in terms of numbers and quality have not been provided to our security forces is ironic, reflecting the callous and nonchalant attitude of the powers that be. It is not that the Maharashtra police was found sans BPJs during the 26/11 terrorist attacks. The Indian Army continues to remain deficient of modular BPJs almost a decade back, with the Defence Acquisition Council (DAC) having cleared the acquisition of 1,86,138 such BPJs in October 2009, despite private Indian companies exporting BPJs to over 100 countries including British, German, Spanish and French armies, plus police forces stretching from Japan in the East to the US in the West.
In 2014, former Defence Minister announced "emergent" procurement of quantity 50,000 modular BPJs for the Army, but these started trickling in last year in 2016 from Tata Advanced Materials Limited (TAML) and the last lot are to e delivered by March 30, 2017 - so much for promise of "emergent procurement" by the defence minister himself. The bigger case for acquisition of1.86 lakh jackets that were to be procured by year 2012, is still lingering but meanwhile the BPJs deficiency of the Army has gone beyond 3,50,000. A British company is presently marketing the PPSS Bullet Resistant Vest - CV2 with NIJ Level IIIA+ protection level that has following characteristics: highly advanced ultra-resilient European ballistic material Waterproof and breathable Cordura® 180 ground-breaking temperature controlling Outlast® space technology; protection against full contact shots Protection from Tokarev Ball 7.62 x 25mm and Makarov 9 x 18mm Protection against more aggressive handgun ammunition Protection against TASER®, and; weighing 1.66 kg. But what is more relevant here is that Amrita University, Coimbatore is offering equally and more advanced technology and the proposal titled "Development of Hyper Velocity Impact Resistant Ultra Light Weight High Temperature Resistant Thermoplastic Polymer-Carbon Fiber Composite" is lying with MoD. The firm claims that this bullet resistant vest has passed the most up to date National Institute of Justice Standard 0101.06, and offers protection from full contact shots, since many times professionals accidentally get shot by their own firearm from extremely close range.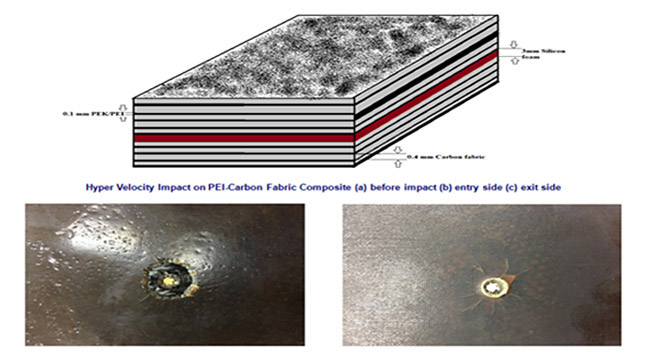 Schematic representation of PEK/PEI-Carbon sandwich composit with silicone foam for bullet proof vest
Amrita University sent the proposal to DRDO and the joint propel TDF-DRDO was then sent to MoD. Dr Shantanu Bhowmik, Head Research & Projects, Department of Aerospace Engineering, Amrita university, Coimbatore also wrote to then Defence Minister Manohar Parrikar that the proposal needs to be progressed expeditiously since similar research is ongoing by foreign companies like Boeing, EADS, Airbus, Lockheed Martin, Bombardier etc for developing high performance thermoplastic-carbon fibre composite for various applications in aviation and defence, and that Amrita University is in the forefront of this technology globally. He, however, pointed out that delay in implementing ths technology in India, would result in these foreign companies exploiting the Indian market.
What is the fate of the proposal sent to the MoD is unknown and whether it has died with the moving out of Manohar Parrikar is not known either, but this is a case that needs to be given due weightage by the PMO. If the claims of Amrita University are correct, which they should be since the joint proposal was sent through the DRDO, it must be examined on priority. These state-of-the-art bullet resistant vests are not required by the Army alone. We should not have only the Army pursuing these and the CAPF going in for imports when better material has been developed indigenously. Of course force individual force requirement would need to be met, like covering the neck, shoulder, grin etc, which should not be a problem. Dr Shantanu Bhowmik had assured then Defence Minister Manohar Parrikar that Amrita University is fully geared and prepared to work 24 x 7 on the project once approved. This is a case that needs to be examined with speed and executed under the 'Make in India' project forthwith since no foreign collaboration and transfer of technology (ToT) is involved. In fact, the venture without doubt has tremendous potential for exports, provided we can productionize these bullet resistant vests before the foreign firms catch up. The million dollar question is can the government act with speed and cut the red tape?