By Lt. General P.C. Katoch (Retd)


Former Director General of Information Systems, Indian Army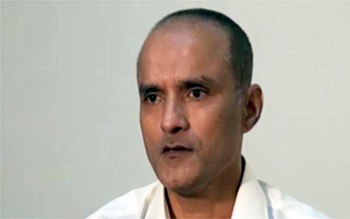 Kulbhushan Jadhav
The reprieve obtained by India for Kulbhushan Yadav from the International Court of justice (ICJ) is a diplomatic victory. This is all the more special because the ICJ deals with international law involving states and not individual cases. However, India won the reprieve by projecting that Pakistan has violated Article 36 of the Geneva Convention on Consular Relations, since Pakistan has repeatedly refused Indian requests for consular access to Jadhav; India having made such demands some 16 times. The ICJ will hold public hearings in the case pertaining to Kulbhushan Jadhav on May 15 at the Peace Palace in The Hague. The hearing will be conducted in two phases with the ICJ hearing India's observations in the first phase and Pakistan's observations in the second phase. The hearings will be streamed live. Significantly, Pakistan has also been charged with violating Article 14 of the 1966 International Covenant on Civil and Political Rights that protects the elementary human rights of an accused.
The President of ICJ has ordered the Pakistan government to effectively not to hang Jadhav pending an examination of the merits of India's petition. This indeed is a political blow to Pakistan. Jadhav's death sentence was announced by a Kangaroo Court of the Pakistani Army, and the sentence was confirmed by Qamar Javed Bajwa, Pakistani army chief almost immediately. The Nawaz Sharif government (puppet of its military) supported the sentence by the Kangaroo Military Court despite Sartaj Aziz, Nawaz Sharif's Adviser on Foreign Affairs telling a full Senate chamber in December 2016 that the dossier on alleged Indian spy Kulbhushan Jadhav contained just statements, and that additional evidence had to be collected. Dawn had quoted Sartaj Aziz as having said, "So far, we have just statements about the involvement of the Indian spy in terror activities in Pakistan" Geo TV had then quoted Sartaj Aziz saying, "It (the dossier) did not have any conclusive evidence. "What the dossier contained was not enough.
Now it is up to the concerned authorities how long they take to give us more matter on the agent." When Sartaj added "Now it is up to the concerned authorities how long they take to give us more matter on the agent", was possibly a hint to the Pakistani military-ISI to 'cook up' evidence? A press release on 10 April 2017 10 by Pakistan's notorious ISPR had stated that Kulbhushan Jadhav was tried by FGCM under section 59 of Pakistan Army Act (PAA) and Section 3 of Official Secrets Act 1923. The very fact that Jadhav was tried under a Kangaroo Military Court under Pakistan's Army Act is a blasphemy of international norms and laws. Army Act in any country is applicable to personnel of that army, both uniformed and civilians, not anyone else. Not providing consular access to India and saying a defending officer was provided is a façade and the so called defending officer may well have been a terrorist. The ICJ order also strengthens perceptions that Pakistan has legally mishandled the Jadhav case. If that was not the case, the ICJ would not have ordered the stay on Jadhav's death sentence.
And, Pakistan had no option but to obey, because ignoring the ICJ would have not only downed Pakistan's international image, but under the 1960 declaration made by Pakistan under the Optional Clause of ICJ and in 1974 India's agreement with ICJ both countries accepted the compulsory jurisdiction of ICJ on adjudicating on cases related to violation of Geneva Convention on Consular Relations. Pakistan maintains that Jadhav was caught in Balochistan on 3 March 2016, the lie was exposed last year by Mehdi Honardoost, Iranian Ambassador to Pakistan who dismissed Pakistan's charge that Jadhav was a spy, saying that the claims were "one hundred percent false". Had Pakistan believed RAW was operating out of Iran, they should have shared this information with Tehran. But more significant was the expose on this sordid affair by Gunter Mulack, former German Ambassador to Pakistan, who disclosed he had information that Jadhav had been kidnapped by the Taliban (on franchise by Pakistan) near Chaman, and sold to Pakistan's ISI. The alacrity, with which the Pakistani army chief confirmed death sentence for Jadhav, maybe linked with another development. Pakistan alleges Lt Col Zahir, who retired from Pakistan army in 2014, went missing on April 6 from Lumbini in Nepal; Pakistan's allegation being that Zahir was kidnapped by R&AW — a charge denied by India. Pakistan has said it is ready for the ICJ hearing. The ICJ hearing on May 15 will be closely watched and logically India should be given consular access to Kulbhushan Jadhav, which will make Pakistan look small. However, Pakistan may go for another trial of Jadhav by forcing him under torture to admit he was spying. Besides, with Pakistan army competing with the ISIS in torture, mutilations, beheadings and the like, it would is not beyond her to orchestrate a prion riot to murder Jadhav like done in the case of Sarabjit, or a purported suicide.