By Lt. General P.C. Katoch (Retd)


Former Director General of Information Systems, Indian Army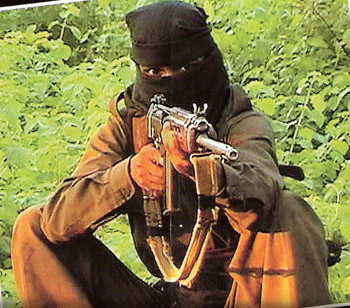 Post the ghastly Maoist ambush at Sukma on April 24, killing 24 CRPF personnel and injuring seven (of 99-strong CRPF column), a Gazette notification declaring entire Assam and selected districts of Chhattisgarh as 'disturbed' area has been issued by MHA. The CM of Chhattisgarh has called for unified command in each Naxal-hit districts and establishing joint training centres in Sukma and Bijapur districts. A similar Maoist attack on March 11 on a 110-strong CRPF column resulted in killing of 11 CRPF and injuring five. In both cases, required tactics and officers were missing. Instead of counter-ambush drill, balance columns abandoned their killed / wounded colleagues and ran back. Maoists mutilated, castrated, booby-trapped the dead, no Maoist body was recovered, and the combined loss of weapons and equipment in these two encounters amounted to 34 weapons (29 assault rifles. four LMGs, one 51mm mortar), one UBGL, seven radio sets, assortment of ammunition, all bullet proof jackets and other equipment, even removing shoes and good socks from the dead. Obviously, no lessons were learnt from the April 2010 Maoists attack in Dantewada where 76 CRPF personnel were massacred and all their arms, ammunition and equipment looted. Significantly, Chhattisgarh High Court admitted on February 8, 2017, criminal writ petition for alleged gang rape and assault of 28 Adivasi women by police in Chinnagelur and Peddagelur in Bijapur district, and NHRC found allegations of rape and assault by the police on 16 women to be prima facie true. While Maoists insurgency spans multiple states, the most affected Chhattisgarh itself presently has 67 Central Armed Forces (CAPF) units (18 x CAF, 27 x CRPF, 8 x BSF, 8 x ITBP, 4 x Cobra, 2 x SSB) besides 11 Coy STF, in addition to 409 police stations and 113 Choukis. 67 x CAPF units translate to some 7 x Army Infantry Divisions plus or 3 x Army Corps.
More than 135 CRPF battalions alone form part of the overall CAPF units deployed in multiple Maoist-affected States. With such massive forces, how have we landed up in a situation where Maoists inflict heavy casualties periodically at will? A closer examination shows complete lack of political will at the State level and nonchalance by MHA beyond dishing out CAPF battalions to States, whereas they should be exercising direct control. The State has major role to play through quality administration since military solution is not the key and synergized response is required simultaneously at socio-political, moral and physical planes, population being the centre of gravity. States have not implemented Article 5 and 9 of the Constitution in letter and spirit to address part of the Maoist grievances? The Deputy Jailer, Raipur Central Jail, who went public last month about tribals divested of their lands under cover of Project Tiger, and horrific torture of young girls in prison, has been suspended. A Former IG (Prisons) of Chhattisgarh has revealed hundreds of "suspected" Maoists jailed for months-years without trial. Welfare schemes are rampant with corruption and insurgency has become lucrative industry where everyone makes money. KPS Gill, former Advisor to CM Chhattisgarh says when he proposed counter-Maoist plan, CM told him to enjoy his pay, have a ball and forget thehis since it was not required and there was no political will to end the Maoist insurgency.
Not only are the IPS officers holding senior appointments in the CRPF (and other CAPF) missing in operations, the CRPF officers too are sitting and enjoying life in towns instead of accompanying their jawans in operations. What results do you expect from a force where no officer is present and why should the jawans be blamed for the reverses? Maoists in Abumajh area of Dandkaranya Forest have free-run instead of this massive congregation of security forces dominating them. Where is the question of infiltrating Maoists, something that should have been done years back? Sending DG CRPF to visit the area after each encounter is pointless when officers are missing at tactical level. Take 74 Battalion CRPF that suffered the ghastly attack on April 24. The Battalion HQ is located at Dornapal with Battalion HQ of another two units, while companies of 74 Battalion CRPF are located 60-90 kms to the West. Why isn't the HQ with their companies? To add to the confusion, NO area of responsibility is allotted to any CRPF unit. And, such large forces placed under command DGP Chhattisgarh. Can the DGP of a State plan and handle the strategy to be adopted with such massive forces? Clearly, MHA who should have taken direct control with Maoists spanning multiple states is shirking responsibility and accountability. There is complete void of junior leadership, motivation, and operational combat training in the CRPF.
In CAPF training establishments emphasis is more on demonstrations and press coverage, other than the Counter Terrorism & Jungle Warfare College, Kanker, Chhattisgarh commanded by a veteran Army Brigadier. CAPF who have gone through training at the latter College have performed well in operations. Overall, CAPF units and sub-units undergo pre-induction training but individuals posted to units in Maoist belt are inducted without pre-induction training, same also turnover of 25-30% of the two CRPF units positioned in Maoist belt on semi-permanent basis. Unless aforesaid issues are addressed by MHA and the States, periodic statements that Maoist insurgency will be resolved in 2-3 years besides being empty rhetoric is ridiculing the blood being shed by security forces. Union Home Minister Raj Nath Singh has exhorted the CAPF to go all out against the Maoists but that is not going to happen unless CAPF officers lead their men in operations. Besides, it needs no reiteration that security forces muscle is NOT the key.