| | |
| --- | --- |
| | The Author is Former Director General of Information Systems and A Special Forces Veteran, Indian Army |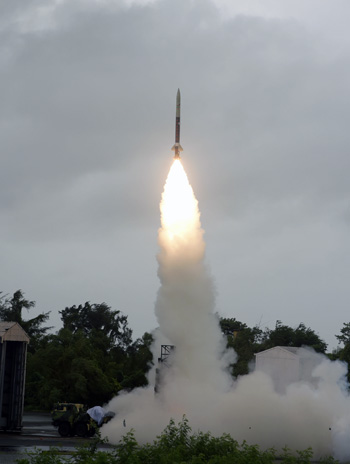 The Defence Research and Development Organisation (DRDO) successfully flight testing the indigenously developed surface-to-surface tactical missile 'Prahar', from Launch Complex-III, ITR, Balasore, in Orissa on September 20, 2018.
On 20 September 2018, India successfully test-fired surface-to-surface short-range tactical ballistic missile 'Prahar' from the Integrated Test Range (ITR) off Odisha coast paving the way for its induction. Equipped with state of the art navigation, guidance and electromechanical actuation systems with the latest onboard computer, the missile achieved the terminal accuracy of fewer than 10 meters. It went up vertically and then manoeuvred as coordinated. According to a defence official, "The missile blasted off from a canister travelled the desired range before zeroing on the target. All systems functioned normally. The mission achieved a copybook success". The missile was launched from a road-mobile launcher, which can carry six missiles at a time and can be fired in salvo mode in all directions covering the entire azimuth plane. There was not a single degree deviation during the entire flight path.
The characteristics of Prahar include:
one, small, lean and slim having a length of 7.32 metre and diameter of 420 mm;
two, Strike range is 150 km;
three, weight 1.28 tons;
four; can carry up to 200 kg warhead;
five, uses solid propellant and travels at a speed of Mach 2;
six, can be fired in salvo mode in all directions covering the entire azimuth plane;
seven, launcher can carry six missiles having different kind of warheads meant for different targets;
eight, can be fired in salvo mode in all directions covering the entire azimuth plane;
nine, can be deployed in both stand-alone and canisterised mode, and;
ten. highly manoeuvring with better accuracy.
Prahar will fill the gap between the multi-barrel rocket Pinaka and BM-30 Smerch MBRL on one end and medium-range ballistic missile Prithvi on the other. However, unlike Prithvi, it can engage multiple targets in different directions. With sophisticated inertial navigation and electro-mechanical actuation system, it can be transported to anywhere within a short span of time. The missile capable of carrying different types of warheads will operate as battlefield support system to the Indian Army. It has a greater manoeuvring capability, acceleration and can be deployed in different kinds of terrain making it more effective against strategic targets. This solid-fuelled missile can be launched within 2-3 minutes without any preparation, providing significantly better reaction time than the liquid-fuelled Prithvi.
Induction of Prahar into the Army will still take some more time. Prahar was 'first' test-fired 'equally successfully' on 21 July 2011 from the same ITR at Chandipur. The missile, comparable to ATACMS Missile of the USA, went to a height of 35 km before reaching the targets of the range of 150 kms in about 250 seconds. PTI had then reported that with state of the art high accuracy navigation, guidance and electro mechanical actuation systems with latest onboard computer, it achieved terminal accuracy of less than 10 meters. It was also then reported that Prahar had been developed in less than two years by the DRDO. The intriguing part is that when the first test of Prahar was fully successful in July 2011 and no parameters needed change, why then did it take another seven years plus for the second test? This is all the more surprising if development of the missile itself actually took less than two years, as claimed by DRDO and time-gap between two successful tests goes beyond seven years. Who decides the priorities? Is it left to the scientist? Do political considerations and elections override all else? Are the Defence Minister, MoD, NSA, CCS grossly unconcerned. There surely is need for serious introspection. When the base for scientists in ISRO and DRDO is the same, why is ISRO performing good and the DRDO remains laidback and unaccountable? Till when are the public and the forces going to be fooled? Additionally, the export variant of Prahar is the 'Pragati' surface to surface missile, which was first unveiled by DRDO at ADEX 2013 at Seoul, South Korea. Pragati has 95% hardware components of Prahar and is designed to strike targets at ranges from 60 km to 170 km. It meets the Missile Technology Control Regime (MTCR) limiting export of missile technology carrying warheads heavier than half a ton beyond 300 km, competing with missiles of the same category developed by China, Iran, Israel, North Korea, Russia and the USA. But the second intriguing part is that why the Pragati has not even been tested three years after it has been showcased abroad and why has it not been offered to the Indian Army? Will the added 20 km range not give additional advantage for striking strategic targets? Even if the Prahar is being fielded first, will it not be better to field the Pragati in the Army concurrent to Prahar rather than meeting Army's total requirements of missiles in this range fully through Prahar and then offer the Pragati with greater range? When is the diabolical game of extracting maximum money from Armed Forces going to end?