| | |
| --- | --- |
| | The Author is Former Director General of Information Systems and A Special Forces Veteran, Indian Army |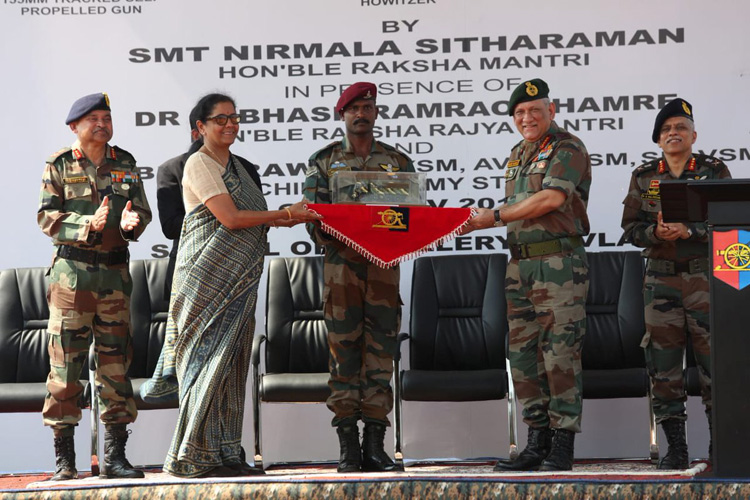 Major capability enhancement of Indian Army, Defence Minister dedicated globally combat proven M777 A2 ULH, K-9 Vajra-Tracked Self Propelled Guns & 6x6 Gun Tower to the the Nation. Ceremony was held at Firing Range Devlali.
On 9 November 2018, the Defence Minister dedicated the M777 A2 Ultra Light Howitzers (ULH) and K9 Vajra-Tracked Self Propelled Guns and 6x6 Field Artillery Tractors to the service of the Nation during a dedication ceremony held at Devlali Field Firing Ranges. The 155mm, 39 Caliber Ultra light Howitzers have been procured from USA under government-to-government deal and will be assembled in India by BAE Systems.
Induction of 100 K9 Vajra at a cost of 4,366 crore is to complete by November 2020 with the first batch of 10 guns delivered this month. The next 40 guns are to be delivered in November 2019, with balance 50 in November 2020. The first regiment artillery fully equipped with the indigenously manufactured K9 Vajra is expected to complete by July 2019. K9 Vajra has a maximum range of 28-38 km. It is capable of burst firing three rounds in 30 seconds, intense firing of 15 rounds in three minutes and sustained firing of 60 rounds in 60 minutes. As for the M777 A2 Ultra Light Howitzers, Army plans to procure quantity 145 of these to equip seven artillery regiments. The entire process is planned to be completed in 24 months, but slippages are likely since the first regiment is expected to be fully equipped only by October 2019. M777 A2, having a range of 30 km, can be moved to any location using helicopters and service aircraft. A compact gun tractor to tow 130mm and 155mm artillery guns, fitted with a crane that can handle ammunition weighing two tons, was also inducted during the dedication ceremony on November 9. Maximum speed of the vehicle without a tow is 80 km per hour which comes down to 50 km per hour when it is towing an attached gun.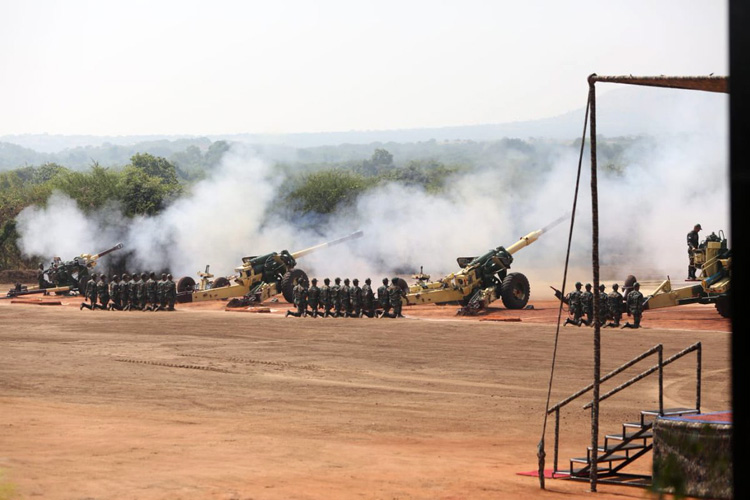 M777 A2 ULH at Firing Range Devlali
After three decades of standing still, and little modernisation of the Indian Artillery, there is finally movement towards filling the massive voids. After sitting on the transfer of technology (ToT) of the Bofors guns imported from Sweden, the OFB has developed its variation – the 155mm 45 calibre howitzer called 'Dhanush'. The project is expected to be worth 1260 crores. Dhanush is still undergoing user exploitation in the deserts and high altitudes, but initial order for 114 guns has been placed by the Army to enable OFB to start bulk production after user exploitation concludes. A number of failures/defects have occurred during the exploitation phase, including on account of faulty ammunition which has been the curse of OFB in many types of ammunition. These are being addressed by OFB.
As per reports, the overall order for Dhanush could go up to 414 pieces if the gun performs well and defects are rectified including failure of some smaller but essential Chinese made parts; metallurgy and quality control being another weakness of the OFB. Next, the DRDO is developing the Advanced Towed Artillery Gun System (ATAGS); an indigenous 155mm/52 caliber towed gun. Bharat Forge, L&T and Tata (SED) are also helping DRDO develop the gun with the ARDE spearheading the project. The Army is reportedly looking at 400 x ATAGS followed by indigenous manufacture of 1,180 guns in this category. Many trials have been ongoing for which Indian private sector companies had tied up with foreign vendors like Bharat Forge with Elbit and L&T with Nexter. The indigenous ATAGS was paraded in Republic Day Parade this year and has reportedly fired at 40 km range at Pokhran. Trials in high altitude are being conducted. Tata (SED) has also developed the Tata's Mounted Gun System (MGS); 155mm 52 caliber truck-mounted gun system. Mounted on a 8x8 truck. The system is 52% indigenous, has a range of 600 km without refueling travelling at speeds of up to 85 km, and can fire all types of 155mm NATO standard ammunition, standard HE ammunition, Extended Range (Base Bleed) ammunition and Rocket Assisted ammunition to the desired range. The platform can carry 26 projectiles and 26 charges. The main weapon along with its sub-assemblies are planned to be manufactured in India with ToT.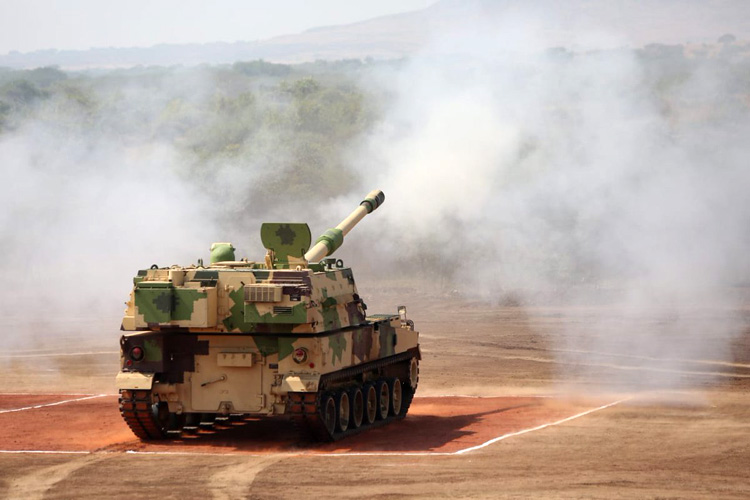 K-9 Vajra-Tracked Self Propelled Gun at Firing Range Devlali
As for the M777 A2 ULH BAE Systems has selected Mahindra Defence Systems as its partner for the assembly, integration and testing of the 145 howitzers to be inducted. While 25 ULH will be received in fully built up condition, the balance 120 guns will be assembled in India. This is a priority project for the Army keeping in mind the threat along out Eastern and Northern borders. Six additional Pinaka and one Smerch unit have also been approved for induction in the artillery by the Government. However the main concern with regard to induction of some 2,820 guns/howitzers of all types as part of the artillery modernisation plan remains the faulty ammunition and metal parts to some extent. These need to be seriously addressed. Government has recently opened the private industry to manufacture of ammunition. More of this is needed. Government should move towards privatisation of the governmental defence-industrial set up in timed fashion, leaving DRDO to focus on developing futuristic technologies, which should be its main task but has been lost in the lure of commercialisation.