| | |
| --- | --- |
| | The Author is Former Director General of Information Systems and A Special Forces Veteran, Indian Army |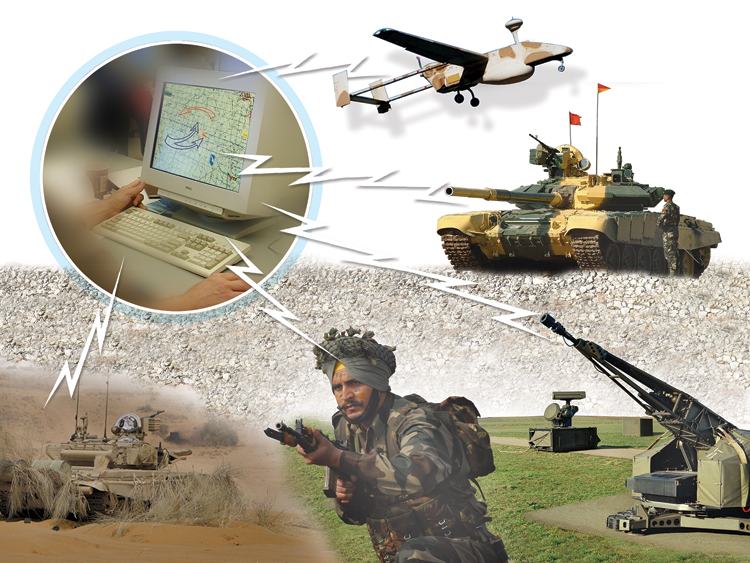 In 2018, the Army was forced to foreclose the Battlefield Management System (BMS) project due to budgetary constraints. BMS delayed mostly because of the governmental defence-industry was pursued for 13 years, and in which considerable amount of money was invested by the private industry in recent years. The F-INSAS project too was reduced in 2015 to two projects: to arm future infantry soldier with the best assault rifle, carbines and personal equipment like helmets and bulletproof vests, and; the BMS. But with BMS foreclosed, both constitute huge setback to Army's quest for capacity building for network-centric capabilities, especially where PLA's digitisation is going full steam. Prior to 2002, Defence Services was ordered by MoD to vacate 60+60 MHz of the spectrum without being allotted any alternate network to migrate their applications. In 2006, the Defence Forces had projected for exclusive defence band, in line with international best practices, and the need for larger bandwidth for network-centric warfare. However, with commercialisation of mobile phones, the government / MoD wanted more spectrum to be vacated by Defence Services.
On May 22, 2009, the Ministry of Defence (MoD) signed a memorandum of understanding (MoU) with the Ministry of Communications and Information Technology (MoC&IT) for Defence Forces to vacate the spectrum amounting to 65 MHz (40 MHz in 2G band and 25 MHz in 3G band) in the 1700-2000 MHz sub band. In lieu of vacating the spectrum, MoC&IT agreed to: provide an exclusive and dedicated Optical Fibre Cable (OFC) Network to facilitate migration of existing defence systems - nationwide backbone communication infrastructure called 'Project Network for Spectrum' (NFS) for the three services (Army, Navy and Air Force); promulgation of an exclusive Defence Band (DB) and Defence Interest Zone (DIZ), and; waiver of spectrum charges for defence usage. NFS was approved by the government on July 3, 2012 at a cost of 13,333 crore to be completed in 36 months. NFS is to have four components: backbone of the core network; Army access network; Navy access network, and; Air Force network. The timelines for vacation of spectrum by Defence Services were linked with the implementation of Project NFS.
Under the project, Bharat Sanchar Nigam Limited (BSNL) was to lay 60,000 km of OFC under the project covering 412 military stations, for which the OFC component has been divided into seven packages on a regional basis. Completion in 36 months meant that the project was to be completed by July 2015. Nothing was heard of the NFS till news reports appeared on May 17, 2018 stating that the government had raised the project cost to 24,000 crore; increase of 11,330 crore with original project cost being 13,333 crore. This news report "quoting government sources", said that the NFS project will be completed in 24 months, which by implication means by May 2020. However, in reply to a query, the Telecom Minister told Lok Sabha on July 11, 2018, that the OFC network for Defence Services is likely to face overruns due to litigation in procurement and difficulties over optical cable contracts, saying, "The project is likely to have time overruns due to litigation in procurement and difficulties encountered in contracting for the main component i.e. OFC". He said, the network is to be completed in three and a half years and shall be implemented by BSNL. This takes the completion date of NFS to January 2022. What can be said about a system where a project related to defence of the country, undertaken by state-owned telecommunications company (BSNL) to be completed by July 2015 is now projecting a completion date of January 2022. The lackadaisical handling apart, no one would be accountable about the delay and even the cost that has almost doubled already. Worst, there is no guarantee that the completion date will go be prolonged further and the costs will not escalate more. Unfortunately this has been the bane of India under all governments without exception, slogans like "minimum government, maximum governance" notwithstanding. If any projects do get completed early, they are the ones assessed to attract votes. MoD would hardly be concerned what is happening about the NFS after signing the NFS, not that the red tape in MoD would have been any smoother.
A study undertaken by Headquarters Integrated Defence Staff (IDS) found that 144 schemes contracted between 2014 and 2017 took an average of 52 months to conclude, more than twice the stipulated 16 to 22-month period. To blame were 'multiple and diffused structures with no single-point accountability, multiple decision-making heads, duplication of processes-avoidable redundant layers doing the same thing over and over again, delayed comments, delayed decision, delayed execution, no real-time monitoring, no programme/project-based approach, tendency to fault-find rather than to facilitate'. The attitude is what the heck, where is the hurry, it is not my money and who dare raise questions?
With the explosion of technology, 'Digital India', and some 650 million Indians using mobile phones including over 300 million with smart-phones according to technology consultancy 'Counterpoint Research', it should not be very difficult to gauge the adverse drawbacks of optical transport backbone for Defence Services in seamless and real-time passage of information during offensive operations and mechanised manoeuvres in mobile warfare. Take the example of the NFS of Air Force Access Network presently running on BSNL hired bandwidth. News reports indicate that reliability of links on hired BSNL media are major concern, and that "Air Force has not been able to migrate their critical air defence communication components on non-radiating media". How much of these problems will be resolved with launch of GSAT-7A on December 19, 2018 meant for IAF's strategic communications, only time will tell. Army's information systems are in a state of semi rigor mortis anyway.