By Lt. General P.C. Katoch (Retd)


Former Director General of Information Systems, Indian Army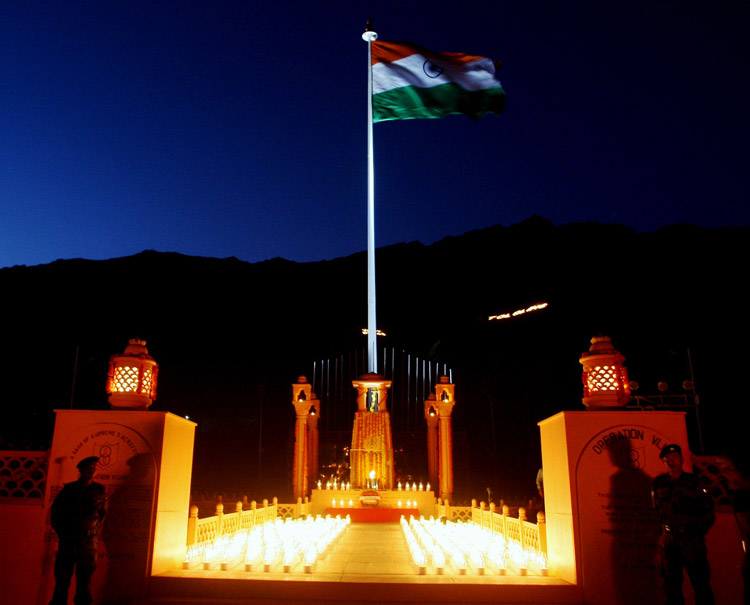 Kargil war memorial at Dras
The 20th Kargil Vijay Diwas falls on July 26, 2019. Celebration to mark the 20th anniversary of Kargil victory are being spread over three days - July 25 to July 27 at Dras in J&K and at New Delhi. The IAF commemorated 20 years of the 1999 Kargil Conflict on June 24 at Gwalior Air Base through symbolic recreation of the attack on Tiger Hill (in Dras) area using Mirage 2000 aircraft and explosives. Government has announced the theme for this year's anniversary as 'Remember, Rejoice and Renew'. The press release further says that objective of these celebrations is to evoke feeling of nationalism and patriotism through nationwide campaigns especially amongst youth and to pay homage to the valiant soldiers.
The events are planned to highlight the stories of valour by our brave soldiers and rekindle the pride among the youth of the country, inspiring those who were too young and those who were not yet born, to form part of the national resolve. Numerous activities are planned throughout the country commencing first week July. Events planned in Ladakh region include: expeditions by units which participated in Kargil Conflict to respective battlefields like Tololing, Tiger Hill, Pt 4875 etc; a 12-day Special National Integration Camp for NCC Cadets at Leh; essay and drawing competitions in schools across Ladakh related to the Kargil Conflict; a run by public and war veterans of Ladakh termed 'Ek Daud Shaheedon Ke Naam'; popular sports and competitions like polo and archery for locals of Ladakh; a T-20 Cricket Championship in Ladakh at the NDS Memorial Stadium with teams from Army, IAF, ITBP and local clubs; Wreath Laying Ceremony at Kargil War Memorial at Dras on July 26. Events in New Delhi include: Illumination of a Victory Flame at the National War Memorial on July 14, which will traverse through 11 towns and cities with the torch-relay team conducting educational and patriotic talks and interacting with prominent personalities and students in educational institutes, finally culminating at Kargil War Memorial at Dras; panel discussion at Manekshaw Centre with the war veterans and serving officers, and; concluding event of the 'Kargil Vijay Diwas Evening' - a cultural extravaganza, at Indira Gandhi Indoor Stadium on July 27.
The press release also emphasizes that Kargil Conflict will be remembered for its strategic and tactical surprises, self-imposed national strategy of restraint by keeping conflict limited to Kargil-Siachen Sectors, swiftly executed military strategy, determination and daring junior leadership, and raw courage of soldiers at tactical level. But there are issues beyond celebrations that remain neglected. The military appreciated that massive Kargil intrusions were unsustainable due to lack of logistics and Pakistan banking on early ceasefire by UN. Then why are we neglecting border infrastructure along the LAC, especially in Arunachal Pradesh, when China has highly developed communications leaning on the LAC? The Kargil Review Committee (KRC) recommended a CDS, with India only major democracy where Armed Forces Headquarters remain outside the apex governmental structure. CDS remains void and HQ IDS outside MoD manned exclusively by bureaucrats. Similarly, KRC had recommended that CAPF could augment Army at borders but should be placed under command of Army. This has not been done even in sensitive areas where Chinese have been intruding. 20 years later we still are without national security strategy and strategic defence review. For keeping the Army fit and young, KRC recommended reducing colour service in Army and thereafter lateral induction of these officers and men into PMF and CAPF. This too has been glossed over. KRC also recommended dedicated radio, TV channels for Armed Forces for entertainment, information and guarding against misleading reports and rumours, given vast gap between government policies and developments on ground on one hand and popular perceptions derived from public pronouncements on the other. During Kargil Conflict, Army Chief Ved Malik had said, "We will fight with what we have". Sadly critical shortage and lack of military modernisation persists, accentuated by successive defence budgets 'negative' in actual terms over the years. Aside from these issues, government approach towards welfare of soldiers and families is at complete variance to the pomp and show to honour braves and martyrs. Litigation against pension of widows and disabled continues.
The 7th CPC brought pay and allowances of military personnel below that of CAPF. There is no move to rectify anomalies of successive pay commissions. The last NDA government gave one-time raise in pensions, which without yearly revision is not OROP. Government is sitting on the Narasimha Reddy Commission report on anomalies in OROP implementation, submitted on October 26, 2016. Gazette notification on the one-time raise in pensions implemented with effect from July 1, 2014 specified revision would be in five years, viz July 1, 2019. However CGDA has raised a red herring, this has no logic since "initiation" was after the 7th CPC. This is deliberate mischief but ironically Defence Minister has appointed yet another committee to study the issue with CGDA heading it; mischief-maker in the first place. MoD bureaucrats have told media that government wants commanders whose bases at Uri, Nagrota and Sunjwan were breached in 2016-2018 to resign and go home.
Government has approved OGAS to Group 'A' cadres of CAPF but denied NFU to Armed Forces. The latest blow to the braves is a Ministry of Finance circular that military personnel with disability who continued to serve till superannuation will not be exempted from IT - despite exemption permitted till now, even as civilians with less than 20 per cent disability are exempted from IT. FM Nirmala Sitharaman says this is on recommendations of Service HQ, which she would have 'extracted' from the 'pliable' military hierarchy, similar to opening up military cantonments when RM, though Army Chief was not in the meeting where she took the decision. But Sitharaman's skull-duggery and pussy-footing military hierarchy apart, is this the manner a nation should honour its braves who gave their blood and limbs in service?