| | |
| --- | --- |
| | The Author is Former Director General of Information Systems and A Special Forces Veteran, Indian Army |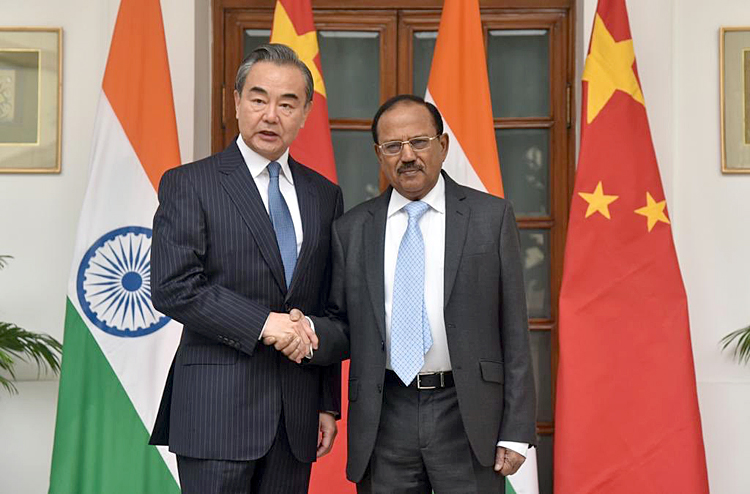 National Security Advisor, Ajit Doval meets Wang Yi, Minister of Foreign Affairs of China in New Delhi on December 21, 2019.
National Security Advisor Ajit Doval and Wang Yi, China's State Councilor and Foreign Minister Wang Yi, Special Representatives of India and China respectively met on December 21, 2019 at Agra for the 22nd round of talks aimed at a border settlement. When Prime Minister Rajiv Gandhi visited Beijing in 1988, both countries decided to keep a permanent solution aside and focus on immediate doables. However on April 11, 2005, India and China signed an agreement encompassing: resolve the boundary question through peaceful and friendly consultations; seek mutually acceptable solution from the political perspective of overall bilateral relations; mutual adjustments for "package settlement" of boundary, which must be final, covering all sectors of the India-China boundary; consider each other's strategic and reasonable interests, and principle of mutual and equal security; take into account historical evidence, national sentiments, actual state of border areas; boundary to be along well-defined geographical features; safeguard interests of respective "settled populations in border areas; delineate boundary using modern cartographic and surveying practices and joint surveys; pending settlement, maintain peace and tranquility in border areas, and; Special Representatives to arrive at agreed framework for a boundary settlement, providing the basis for the delineation and demarcation of boundary.
Prior to 2005, China was laying claims to the Tawang Plateau but no sooner did Article III of the 2005 agreement mention that the boundary settlement must be a "package deal", China overnight extended its claim in the eastern sector from the Tawang Plateau to entire Arunachal Pradesh, mischievously terming it "South Tibet". The clause of taking the populations settled in border areas has led China to develop and settle populations in close proximity to the Line of Actual Control (LAC), repeated transgressions across the LAC by PLA in uniform and as civilians with cattle, pitching tents south of the LAC, deep intrusions like the 19 km deep intrusion in area of Raki Nala in Depsang Plains of Eastern Ladakh just before the visit of China's Vice Prime Minister Li Keqiang in 2013, and constructing roads across the LAC. China is actively engaged in fabricating historical records of Arunachal Pradesh to support its illegal claims and has even given Chinese names to places in Arunachal Pradesh.
Prime Minister Narendra Modi and Chinese President Xi Jinping had two informal summits at Wuhan in China (May 2018) and at Mamallapuram in South India (October 2019), where the need to maintain peace and tranquility at the borders was reinforced, aside from discussing other issues like trade and economy. Prior to the Wuhan Summit was the 73-day long Doklam Standoff between India and China. China was also caught surreptitiously constructing a 1.25 km motorable road south of the LAC in Tuting area in northeast India under three feet of snow during January 2018. This was despite promises to maintaining peace in border areas and agreements like the BPTA 1993, CBMs 1996, Guiding Principles of 2005; Working Mechanism for Consultation and Coordination 2012, Border Defense Cooperation Agreement (BDCA) of October 2013 and the like. During the 22nd round of talks at Agra on December 21, 2019, both sides resolved to intensify efforts to achieve a fair, reasonable and mutually acceptable solution to the vexed boundary issue and agreed that its early settlement will serve the fundamental interests of both countries.
The MEA brief said there was consensus during constructive border talks and both sides resolved to respect each other's sensitivities. They also underlined that the boundary question should be approached from the strategic perspective of India-China ties while agreeing that maintaining peace and tranquility along the border was important. The MEA statement further said, both side "recognised the importance of existing CBMs to promote exchanges and communication between the border personnel and to ensure predictability in border management as well as strategic communication." MEA further said that were constructive with focus on taking forward the closer developmental partnership between the two countries in accordance with the "guidance" of Modi and Xi Jinping at the second informal summit in Chennai. All this jargon is no different from the 2005 India-China Agreement described above. However, post the 22nd round of boundary talks, China said that that the two sides should "promote early harvest consultations."
It is not known whether Wang Yi raised this issue during the 22nd round but the 'early harvest' proposal was reportedly given to EAM Jaishankar when he met Wang Yi in Beijing during August 2019. The 'early harvest' proposal is understood to be the brainchild of Luo Zhaohui, China's Vice Foreign Minister. Luo was China's ambassador to India during the Doklam standoff. He had threatened India during the Doklam crisis, air dashed his deputy to Thimpu, himself met opposition leaders and visited Kolkata and Darjeeling fishing in the Gorkha Land agitation. The early harvest proposal is to settle the boundary in Sikkim only which the Machiavellian Chinese government wants to "harvest early" in order to resolve its vulnerability in Chumbi Valley and next grab the Doklam Plateau from Bhutan permanently. India dominates both the Chumbi Valley and Finger Area up in the north. There have also been some unconfirmed reports of Chinese tunneling activities in the Finger Area recently. Sikkim has been part of China for decades no matter what China claims. China's aim is to somehow get to the Jampheri ridge in order to increase India's vulnerability of the sensitive Siliguri Corridor. China is making no mention about the maps exchanged by both sides with respect to the middle sector (Uttarakhand area) in March 2002. India has reportedly linked China's 'early harvest' proposal to simultaneous demarcation of the middle sector in Uttarakhand. But the crux of the issue is that the resolution must be a "package settlement" of boundary covering all sectors of the India-China boundary as agreed by both countries in 2005. While demarcation will eventually perforce be in phased manner, the critical regions of Ladakh and Arunachal Pradesh must also be discussed simultaneously. Not doing so will be playing into Beijing's hands.