By Lt. General P.C. Katoch (Retd)


Former Director General of Information Systems, Indian Army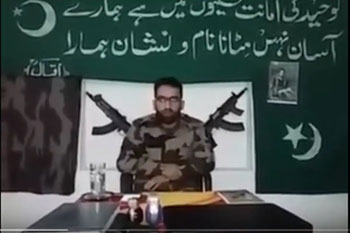 Riyaz Naikoo
Riyaz Naikoo, chief of Hijbul Mujahideen (HM) was killed on May 6 during an anti-terrorist operation conducted by the Army and J&K Police in the Beighpura area of Pulwama district. A second terrorist, believed to be an accomplice of Naikoo, was also killed in the encounter. Naikoo was the most wanted terrorist after former Hizbul chief Burhan Wani, who was killed in an encounter in July 2016. Born in South Kashmir, Naikoo was a school teacher for two years, teaching mathematics and delivering lectures on Islamic topics before becoming a terrorist by joining HM in May 2012 at the age of 33.
A close associate of Burhan Wani and wanted in 11 terror-related cases, he slipped into the shoes of Yaseen Ittoo, a top terrorist killed in an encounter in September 2017 as the operational commander of HM. After Zakir Musa's defection from HM to form his own outfit called Ansar Gazwatul Hind, he took command of the HM outfit in J&K – Zakir Musa was eliminated in 2019. Naikoo had been continuously making audio and video clips and putting up on social media to motivate youth to join militancy and went on recruiting new boys. He was responsible for Naikoo masterminded the revival of HM in J&K, releasing videos / audios periodically carrying pro-Pakistan and separatist propaganda and large number of innocent youth to join terrorism and indulge in serious violence against the local population and security forces. In one of his audio tape, he threatened attacks on the jail authorities after preferential treatment being provided to militants and the separatists lodged in various jails was discontinued. A report by the Intelligence Bureau (IB) in 2017 described Naikoo as "one of the most experienced Hizbul commanders", someone who was adept at using technology and covering his tracks and playing the role of facilitator and motivator.
Naikoo executed series of terrorist attacks on security forces and civilians, also resorted to brutal killings of civilians branding them informers of police and security forces. He was involved in narcotics trade and was extortions from orchard owners. Some of the multiple terrorist acts in which he was directly involved included: killing of a police head constable Ashiq Hussain Mir at Padgampoara crossing; kidnapping of police constable Naseer Ahmad; looting of nine weapons from the residence of ex MLA Wachi; killing of six migrant labourers in Kulgam, and; killing of truck drivers and fruit traders post abrogation of Article 370. To trap Riyaz Naikoo, two cordon and search operations were launched by security forces and the J&K Police on the night of May 5/6 based on specific inputs at Sarshali and Beigpora in Awantipora. These cordon and search operations led to encounters as the hiding terrorists fired upon the operation parties. During these encounters four terrorists were neutralised. In the Sharshali encounter two terrorists of LeT were killed and arms and ammunition with other incriminating material were recovered from the site of encounter. In the second operation in Beigpora village of Awantipur district, Riyaz Naikoo was trapped along with his associate. Contact was established on May 6 and in the exchange of fire both Naikoo and his associate were killed. Soon after the killing of Naikoo, a violent mob attacked the security forces.
In a video shared by a journalist on social media, the mob was seen attacking a security forces vehicle with sticks and stones. Some of the rioters climbed atop the vehicle and were seen attacking the roof with sticks. Mobile and internet services were suspended as a precautionary measure. As the country including Union Territory of J&K battles COVID-19, terror attacks amid reports of infiltration by Pakistani terrorists (some COVID-19 infected) pose a major security challenge. Killing of Riyaz Naikoo is a huge victory for security forces, especially since he had revived the HM after the defection of Zakir Musa. However, we need to urgently review our sub-conventional policy, which continues to be defensive. There is little point in counting killing X or Y number of terroristsin a monthof year when 32,000 madrassas in Pakistan produce about one lakh hardcore Islamists annually. We don't even have the will to deal with stone-pelters the way Israel does. Life is far from normal in J&K post abrogation of Article 370 as is being portrayed and we are losing far too many lives of security forces. As long as we do not have the will to transport the proxy war from our territory to that of the enemy, this will continue to happen. The politically motivated hype about 'surgical strikes' which by themselves were good operations but this does not make us a proactive nation because these strikes were a 'reaction' to serious losses suffered by us. We keep talking of terror launch pads full with terrorists waiting to infiltrate. So what are we doing about it? Similarly, one-time Balakot strike was good but what beyond? If airstrikes could resolve terrorism, the US and NATO would have wiped out terrorism from many regions.