| | |
| --- | --- |
| | The Author is Former Director General of Information Systems and A Special Forces Veteran, Indian Army |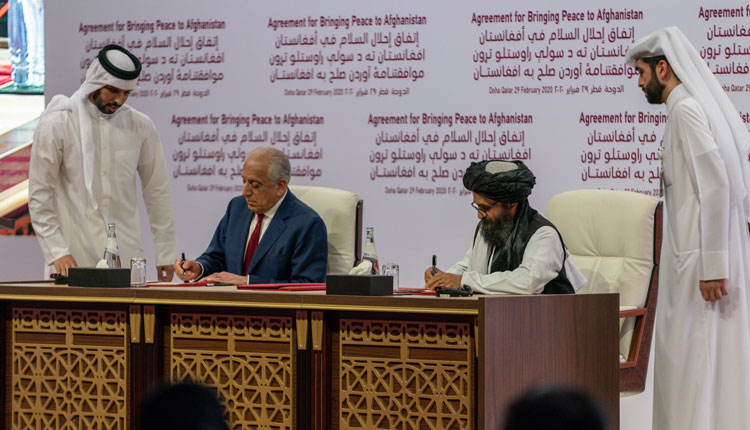 US representative Zalmay Khalilzad (left) and Taliban representative Abdul Ghani Baradar (right) sign the agreement in Doha, Qatar on February 29, 2020
A report by the United Nations released on June 2, 2020 has confirmed that the Taliban in Afghanistan still maintains close relations with the terror network of Al Qaida despite having signed a peace deal with the US on February 29, 2020, agreeing to tackle militant groups. Importantly, the report also states that there are large numbers of Pakistanis in Afghanistan who are part of terrorist organisations. India has been saying this for long, which has also been mentioned in these columns periodically. Al Qaeda was responsible for orchestrating September 11, 2001 attacks on US soil. One of the reasons behind the US invasion of Afghanistan in 2001 was that the Taliban, who ruled the country from 1996 to 2001, had provided shelter to Al Qaeda commanders.
According to the report prepared by independent monitors of the UN, a number of important Al Qaida members were killed over the past months but several prominent leaders remain active in Afghanistan. In particular, the report notes that the Taliban continues to operate with ally and guerrilla insurgent group – the Haqqani Network. It may be recalled that successive US Presidents have been accusing Pakistan for supporting and harbouring the Haqqani Network who have deep roots in Pakistan. Afghanistan continues to be wreaked with terror attacks after the US-Taliban peace deal which itself was signed, not in a period of ceasefire but so called "reduced violence" by Afghan Taliban. Terror attacks both by the Taliban and the Islamic State of Khorasan (ISKP) have continued killings in Afghanistan.
On the same day as the UN report was released on June 2, seven civilians were killed by a roadside bomb linked to the Taliban in the restive district of Khan Abad in the northern province of Kunduz. This is after UN, US and Afghan authorities have been giving repeating calls for peace talks. Afghan Taliban trashed the UN report as "baseless and bigoted" with Taliban spokesman Zabihullah Mujahid stating that the Taliban "in accordance with the Doha agreement, will not allow anyone to use the soil of Afghanistan against anyone else or maintain training camps or use our soil to fundraise against others.'' Obviously CIA and Pentagon were aware of Taliban's continued connections to Al Qaeda while sealing the US-Taliban deal but US simply wanted to exit Afghanistan hoping Taliban will not hit US forces in the process of thinning out till their final exit. In their bid for safe exit from Afghanistan, the US has been ignoring the double game of Pakistan. Nothing has really changed in Pakistan's behaviour from the panel discussion at Jinnah Institute in Pakistan on April 8, 2016, when Omar Zakhilwal, Afghanistan's Ambassador to Pakistan said it was important to build an environment of trust given the main hurdle to peace in the region was a trust-deficit with Pakistan. His explicit message was that Pakistan is the main hurdle in achieving peace with Taliban. Zakhilwal said, "It was important for both sides to talk to each other, and not at each other... Pakistan would always face roadblocks in its attempt to become a gateway to Central Asia, as would Afghanistan in its attempt to be a land-bridge to Central Asia, if peace continued to elude Afghanistan. Elements supporting violence in Afghanistan continued to use Pakistani territory... Pakistan too has paid a price for the regional conflict, losing $70-80 billion annually due to instability in Afghanistan". Sartaj Aziz, Foreign Affairs Adviser on foreign policy to then Prime Minister Nawaz Sharif, sharing the same dais with Omar Zakhilwal was left red faced. Taking refuge behind the Quadrilateral Coordination Group (QCG), he said that the QCG would have to collectively decide how to deal with elements refusing to join the peace process.
Report by the UN Assistance Mission Afghanistan (UNAMA) in July 2016 had brought out that majority of the casualties in Afghanistan were caused by the anti-Afghan government forces - Taliban and organised armed groups including Lashkar-e-Taiba (LeT), Jaish-i-Mohammed (JeM), Haqqani Network, Hezb-e-Islami, Islamic Movement of Uzbekistan, Islamic Jihad Union, groups identified as 'Daesh' (IS) and other militia and armed groups. Afghanistan's National Directorate of Security has provided proof time and again that Pakistani proxies, regular army and cadres of Mujahid battalions have been assisting Haqqani Network and Taliban in undertaking terrorist attacks in Afghanistan. The ISKP itself was first established in the Peshawar region under tutelage of Pakistan's ISI using cadres of the Afghan Taliban and Pakistan Taliban, ISI, LeT and others. The US-Taliban deal apparently was a draft given by Afghan Taliban in conjunction with Pakistan on which US put its signature. The US-Taliban deal laid out a 14-month period for the withdrawal of "all military forces of the United States, its allies, and Coalition partners, including all non-diplomatic civilian personnel, private security contractors, trainers, advisors, and supporting services personnel" although US Defense Secretary Mark Esper had said that the US will pause the withdrawal and reassess the situation including whether the Taliban has upheld its end of the deal once the troop numbers are reduced to 8,600. Ironically, neither UNAMA nor the US has shown the will to point out the Chinese support to Afghan Taliban, Pakistan and Pakistani proxies especially Haqqani Network. US forces in Afghanistan has already thinned out / withdrawn from certain bases in Afghanistan. Schedule of US withdrawal may be altered with Afghanistan battling COVID-19 but whether it would be advanced or delayed remains a question mark. President Ashraf Ghani and Abdullah Abdullah signed a power sharing deal on May 17 with latter given lead role in seeking peace with the Taliban and naming half the cabinet. Afghan government has released the second batch of Taliban prisoners but peace talks between Taliban and Afghan government are yet to begin. What happens next remains fluid and will be of concern to India given intelligence reports that Pakistan is training ten Taliban cadres to undertake terrorist attacks in J&K.