| | |
| --- | --- |
| | The Author is Former Director General of Information Systems and A Special Forces Veteran, Indian Army |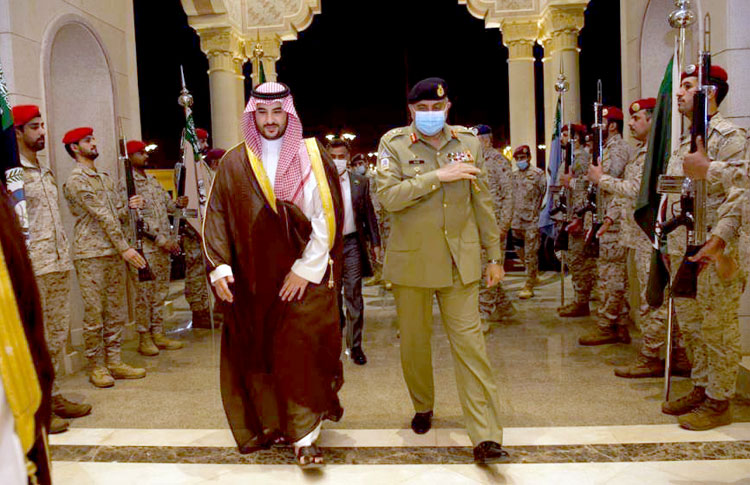 GENERAL QAMAR JAVED BAJWA, CHIEF OF ARMY STAFF (COAS) MET HIS ROYAL HIGHNESS PRINCE KHALID BIN SALAMAN BIN ABDULAZIZ DEPUTY MINISTER OF DEFENCE WRITE KINGDOM OF SAUDI ARABIA ON AUGUST 18, 2020.
Behind Pakistan's obsession with Kashmir is the Pakistani army's aim to continue ruling the country indirectly and stay in power, raking in millions in the process. The civilian governments are puppets of the army. An added problem for the Prime Minister is that Pakistan has become a vassal state of China. Imran Khan, therefore, has to play poodle to two masters – Beijing and the Army Chief though both these masters are in synch on the question of wresting Kashmir from India. Both eye Indian Territory and have mutual interests in Balkanizing India. The Pakistani army has also been seething with the loss of East Pakistan in 1971.
China has been trying unsuccessfully to raise the issue of Kashmir at the United Nations but Pakistan has been seeking support of the Islamic World over Kashmir in the past four and a half decades. In 1974, Pakistan hosted the Islamic Summit where it raised the issue of Kashmir exhorting the Islamic countries to include this as a foreign policy goal. More recently, Pakistan asked Saudi Arabia to host a summit of Organization of Islamic Countries (OIC) on Kashmir but this was refused by Saudi Arabia. The OIC by and large have understood the sinister motives of Pakistan and are quite fed up with terrorism sponsored by Islamabad. UAE has made peace with Israel recently and some other Gulf States are likely to follow suit. To make matters worse Pakistan's foreign minister Shah Mahmood Qureshi, who was also part of Musharraf's cabinet, issued a virtual warning to the OIC and indirectly to Suadi Arabia as well by telling the media, "If you (OIC) cannot convene it, then I'll be compelled to ask Prime Minister Imran Khan to call a meeting of the Islamic countries that are ready to stand with us on the issue of Kashmir and support the oppressed Kashmiris." Concurrently, China's strategic interests in Iran are overtaking China-Saudi Arabia relations. For similar reason Imran was stitching the Turkey-Pakistan-Malaysia Islamist anti-India nexus.
GENERAL QAMAR JAVED BAJWA MEETING HIS ROYAL HIGHNESS PRINCE KHALID BIN SALAMAN BIN ABDULAZIZ, ON AUGUST 18, 2020.
Playing into China's hands, Pakistan recently borrowed an additional $1 billion from China to prematurely return this amount to Saudi Arabia; part of $6.2 billion borrowed from Saudi Arabia in 2018. The loan package included a provision under which Saudi Arabia granted Pakistan $3.2 billion worth of oil a year on deferred payments which expired two months ago. China is trying to split OIC and Turkey to replace Saudi Arabia in lead role of the Islamic World. This has led Saudi Arabia to stop oil supply to Pakistan. That is when Pakistan woke up to a rude shock. All these decades the first foreign visit of a newly appointed Pakistani Army Chiefs and Prime Ministers used to be to Saudi Arabia. Having discovered their folly, Pakistani Army Chief General Qamar Javed Bajwa accompanied by Inter-Services Intelligence (ISI) Chief Lieutenant General Faiz Hameed rushed off to Saudi Arabia to make amends, leaving behind Imran Khan to prepare the red carpet for the impending visit of President Xi Jinping. But Riyadh delivered a kick to Pakistan when Crown Prince Mohammed bin Salman declined to meet Bajwa and Hameed who had arrived in Saudi Arabia's capital on August 17, 2020. To add to the insult Major General Fayyad Al Ruwaili, Saudi Arabia's Chief of General Staff (CGS) also did not meet them. The duo had to settle for a meeting with the Deputy Defence Minister Sheikh Khalid Bin Salman. Bajwa reportedly conveyed the Imran Khan government's apology over foreign minister Shah Mahmood Qureshi's statement that criticised Saudi Arabia over the reluctance of the OIC to convene a meeting of OIC foreign ministers to discuss Kashmir. In Riyadh, Bajwa reportedly floated a proposal for a meeting of the OIC contact group on Kashmir, on side lines of the UN General Assembly (UNGA) meeting to be held under Turkey. The OIC contact group on Kashmir, formed in 1994 is a smaller group of OIC foreign ministers. This contact group had earlier met on June 22 and was attended by foreign ministers of Azerbaijan, Niger, Pakistan, Saudi Arabia, and Turkey. Bajwa and Hameed could only interact with the Saudi defence establishment before taking off for UAE. Pakistan's media naturally played down the snub amidst speculation that Imran Khan may not be averse to sacking Quereshi. But Imran hardly has any power to sack Quereshi because that decision either way would be taken by Bajwa, Beijing or both. Shireen Mazari, Pakistan's minister for human rights is as radical as Quereshi if not more but being a blue-eyed of Bajwa she cannot be touched. Bajwa was expected to attempt to smooth relations with UAE after UAE's recognition of Israel.
UAE is the third country after Egypt and Jordan to establish diplomatic relations with Israel. But Pakistan's response to the UAE-Israel pact was quite ambivalent, not very different to enhanced India-Saudi Arabia and India-UAE relations. Interestingly Turkish President Recep Tayyip Erdogan (Imran's newfound love) was contemplating breaking diplomatic ties with UAE and Iran wants to bomb the Emirates while UAE happily hosted Yossi Cohen, the chief of Israel's foreign intelligence service Mossad to discuss cooperation in the fields of security. Finally, Pakistan-Saudi Arabia relations are not likely to become as smooth as before much that Islamabad would want them to be; simply because Pakistan's obsession with Kashmir, efforts to split the OIC and placing Turkey over Saudi Arabia are unlikely to diminish. Pakistan would be stupid to think that Riyadh is not monitoring surreptitious Pakistani motives.