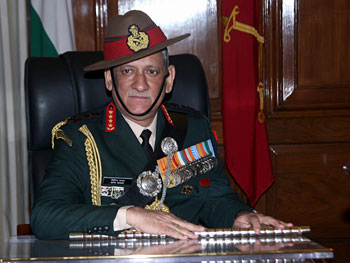 SP Guide Publications (SP's): Having taken over the reins of our illustrious Indian Army at the start of the new year 2017 and with a fairly reasonable tenure of three years, you are in a position to make substantial changes within the force and in maintaining a cordial civil-military relationship. What will be your key result areas that you may have chalked out for yourself?
Chief of the Army Staff (COAS): The vision statement and thrust areas have been enunciated by my predecessor. I find these are all encompassing, well defined and we need to continue with our efforts in realising these. An abrupt change would only cause confusion amongst the rank and file of the Army. These are reiterated as under:
Vision. Ensure capability enhancement and operational effectiveness of the Army to meet all contemporary and emerging challenges.
Key Result Areas

Ensure the highest standard of operational preparedness to meet present and emerging challenges.
Ensure force modernisation incorporating relevant contemporary technologies.
Make up critical deficiency of weapons and equipment at the earliest.
Develop requisite capacities and infrastructure with special emphasis on our northern and north-eastern borders.
Enhance inter-Services jointmanship at all levels in letter and spirit.
Ensure the highest level of security consciousness amongst our rank and file.
Optimally enhance human resource development to fully exploit the inherent strength of the Indian Army.
Improve the quality of life and living conditions of all ranks with special emphasis on the soldier.
Foster an organisational climate based on mutual respect and camaraderie amongst all ranks.
Ensure requisite welfare measures for ex-servicemen and Veer Naris.
SP's: The external threats and challenges to India's sovereignty are evolving at a rapid rate and the nature of wars has changed. As you have seen these developments taking place in your service in the Army, what do you think should be done to arrest the decline and to restore the Army's modernisation status? In your view which are the priority areas for – modernisation?
COAS: Army is doing its best to expedite the procurement and maximise operational readiness. We have set achievable targets and we are making steady progress. In-house measures have been initiated to reduce procurement timelines. These include strengthening of the procurement organisations, ensuring concurrent procurement activities, faster decision making and establishment of a robust monitoring mechanism. With concerted focus and special impetus on indigenisation, as reflected in the Defence Procurement Procedure (DPP) 2016, the situation will improve in the coming years. Government has implemented several policy initiates such as liberalisation of FDI policy and industrial licensing policy, simplification of export procedures, creating level playing field for Indian private and public enterprises, streamlining of offset implementation process and providing preference to 'Buy (Indian)', 'Buy and Make (Indian)' categories of capital acquistion over 'Buy (Global)' category in DPP to make the country self-reliant in defence production.
The Indian Army has identified 24 priority proposals which are critically required; the procurement for the same is being pursued on fast-track basis with support from the government. Broadly, these schemes address modernisation of our mechanised fleet, night enablement, replacement of aviation assets and empowerment of the soldier by improving battlefield transparency and facilitating decision making process.
I am quite satisfied with the progress. With much coordinated effort, we have been able to ink the contract for procurement of 145 ULHs (ultra light howitzers). We have also initiated a large number of cases which are at trial or GS evaluation stage. Overall, I think we are moving well. Minor glitches will always be there and those have to be overcome.
SP's: Infantry's modernisation is depressingly slow when the interim challenges demand this force to be ever ready to deliver. How do you view this dismal progress and what do you intend to do about it?
COAS: Infantry modernisation plan is comprehensive and includes 15 schemes under the Army Acquisition Plan 2016-18. Some of the schemes which were not progressing at the desired pace are being pursued with vigour under DPP 2016. These address the aspects of lethality, survivability, mobility and situational awareness to enable the soldier to operate in a networked environment.
We are moving forward in the right direction for replacement of 5.56mm INSAS rifle and replacement of existing missiles with improved technologies. In the next two to three years infantry will also see enhancement in the night-fighting capability. Introduction of better quality protective gear for the infantry soldier and introduction of digitised systems, communications and battlefield transparency have been accorded higher priority. Weapons and equipment for special forces are being procured through the 'fast-tracked' procedure.
SP's: Artillery modernisation has also been excruciatingly slow. What is the current status in this regard?
COAS: Artillery is well on the path of modernisation with our focus on upgrading guns to a standard calibre of 155mm as well as induction of long-range vectors. The procurement of 155mm guns are at various stages of fructification which will enhance the quality of firepower in terms of range, accuracy and lethality. Induction of 155mm M777 guns should be considered the first step towards modernisation. The procurement case for 155mm/52-calibre tracked (self-propelled) gun is under process. 155mm/45-calibre Dhanush is being developed indigenously by the Ordnance Factory Board (OFB) based on transfer of technology (ToT) of Bofors gun and its trials are nearing completion. Advanced Towed Artillery Gun System (ATAGS) project is also moving satisfactorily. Our vision for transformation of the artillery includes modernisation of its inventory, to include guns, rockets, missiles, surveillance and communication networks. Artillery must be capable of delivering the desired TNT with accuracy and at ranges, to engage the adversary in the operational depth.
SP's: Prime Minister's focus on 'Make in India' to make India self-reliant is a laudable initiative which has led to the evolution of a new 'Make' procedure in the DPP 2016. How is our modernisation affected by the new procedure and are any difficulties being experienced in this regard?
COAS: To give a boost to 'Make in India' initiative, the recently promulgated DPP 2016 has introduced 'Buy (Indian-IDDM)' (Indigenously Designed, Developed and Manufactured) category as most preferred one for capital acquisition.
Since the promulgation of DPP 2016, a total of 10 proposals amounting to `8,000 crore are being processed under 'Make' category to promote indigenisation. These proposals will entail weapon platforms and subassemblies being produced by Indian industry including the micro, small and medium enterprises (MSMEs), thus providing requisite impetus to indigenisation in defence production.
We have raised the Army Design Bureau that will be an interface and will also become a medium of facilitating concurrent engagement with industry and academia. By way of an outreach programme 17 bilateral army-industry interactions at industrial hubs across the country and eight trilateral army-industry-academia interactions have already been held at various premier technology institutes.
SP's: Considering the Pak-China nexus and Russia making overtures to Pakistan, how does this geostrategic scenario in the backdrop of increasing India-US friendship affect our regional security and what would be the likely impact on the armed forces?
COAS: Nations evolve their strategies based on 'national interests'. India-US relations are not dependent on alliances or nexus between other nations. Our relations are based on convergence of interests on bilateral regional and global issues. Defence and security are subsets in this canvas. India's growing economy will bolster trade, create jobs, increase investments and growth in both countries. India-US security collaboration is focused on increasing stability and security in the Asia-Pacific region.
India shares a long-standing strategic partnership with Russia and cordial relations with China. However, China's implementation of the China-Pakistan Economic Corridor (CPEC) through Gilgit-Baltistan remains a matter of concern. Each country pursues geopolitical partnership in pursuance of their respective national interests. We are pursuing our relations with China to build greater components of collaboration.
SP's: Considering the current threats and challenges confronting India and the nature of wars in our context in the future what major changes do you foresee in the force structuring and re- organisation of the armed forces?
COAS: Force structuring is a dynamic process and future security scenarios need to be benchmarked against appreciated timelines and security implications. These need to be evaluated from the perspective of national interests and its concomitant requirements on military as an instrument of national power.
In the present day, our principal regional and extra regional threats are from across the land frontiers. The threats need to be deterred by maintaining requisite 'strike formations'. The active borders characterised by harsh and inhospitable terrain mandate a 24 x 7 x 365 vigil with 'boots on ground'. These threats need to be deterred by maintaining combat ready 'strike formations' thus translating into force structure imperatives.
We need multi-role force capabilities wherein conventional and subconventional capabilities can be balanced to respond across the spectrum of conflict, with minimum restructuring and at optimum costs. We need to make a transition from the present 'threat-cum-capability based force structuring', which has its underlining theme as 'war prevention through deterrence', towards a 'capability based modular and responsive structure' based on envisaged future force application scenarios. Right-sizing commensurate to ongoing modernisation is also a key imperative that impacts current and future force structures.
With emerging technologies, we must ensure that our weapon systems and equipment incorporates technology upgrades and are capable of operating in a digitised networked environment.
SP's: What is the current situation on the line of control (LoC) and on the international border (IB) in Jammu and Kashmir (J&K) and the state of agitation in the Kashmir Valley?
COAS: The security situation in J&K is at an important crossroad. Pakistan's support to proxy war is non-abating, and the recent terrorist attacks on Army installations are yet another pointer to this. In addition, Pak is making all efforts to keep the situation along borders volatile by continuous ceasefire violations and targeting Army and civilian establishment close to the borders.
The internal security situation in the Kashmir Valley witnessed some disruptions during the later part of 2016. Relentless operations by the Army on the LoC and in the hinterland along with other security forces have thwarted the proxy war being waged against India. There is a need to consolidate gains to further stabilise the security situation for which a 'Whole of the Government' approach is imperative.
The Army will continue with its operations philosophy of protecting the lives and property of the people of J&K, whilst simultaneously neutralising those who are resorting to violence and disrupting peace. When necessitated, punitive actions against those who are providing support to the terrorists along the LoC will be taken.
SP's: The Seventh Central Pay Commission (CPC) was biased against the military which forced the Chiefs reject the pay commission's recommendations and request amendments in certain specific areas of the report concerning the armed forces. You are aware that a large number of lower ranks and officers are affected. What is being done to pursue this case to its early conclusion?
COAS: This is an issue affecting all the three Services. A joint effort is ongoing in addressing the issues relating to anomalies in the Seventh CPC. The Services have urged the government for resolution of anomalous recommendations of the Seventh CPC for defence forces. The Hon'ble Raksha Mantri has assured the defence forces for resolution of our major concerns at the earliest. Currently 10 per cent of the enhancements have already been executed.