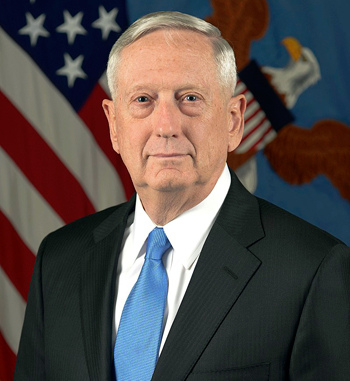 James Norman Mattis, United States Secretary of Defense
Amid stern warning of the United States' intelligence chief to Pakistan –to act against its terror network, Defense Secretary General James Mattis, during his visit to the country on December 4, asked Pakistan to redouble its efforts against terrorists.
Pentagon in a statement on the visit said, "Secretary Mattis recognised Pakistan's sacrifices in the war against terrorism. The Secretary emphasised the vital role that Pakistan can play in working with the United States and others to facilitate a peace process in Afghanistan that brings stability and security to the region."
"The Secretary reiterated that Pakistan must redouble its efforts to confront militants and terrorists operating within the country," it added.
This is Mattis' first trip to Pakistan in this position. During his visit, Secretary called on Prime Minister Shahid Khaqan Abbasi and met with his counterpart Khurram Dastigir Khan.
While speaking at the Reagan National Defence Forum in Simi, California, CIA Director Mike Pompeo, on December 2, had said: "The safe haven inside of Pakistan has worked to the detriment of our capacity to do what we needed to do in Afghanistan."
"In the absence of the Pakistanis" destroying the safe heavens, Pompeo warned, "we are going to do everything we can to make sure that that safe haven no longer exists."
Defense Secretary James N. Mattis meets with Pakistani Prime Minister Shahid Khaqan Abbasi during a visit to Islamabad, December 4, 2017. Mattis is traveling to Egypt, Jordan, Pakistan and Kuwait to reaffirm the enduring U.S. commitment to partnerships in the Middle East, West Africa and South Asia.
Since the new US administration under President Trump has taken position, the US-Pakistan relation has seen rapid deterioration and the two sides have publically expressed their mistrust for each other. US blames Pakistan-based terror groups for the security situation in Afghanistan and wants Pakistan to take action against them.
Trump administration wants Pakistan to walk the talk if it wants US financial assistance. Pakistan on the other hand blames Afghanistan and India of supporting and harbouring terrorists in Afghanistan who commit acts of terror within Pakistan and moves back into Afghanistan.
During the meeting between Prime Minister Abbasi and Mattis at the Prime Minister House, the two sides discussed the ways to improve the bilateral relations.
Post meeting, Prime Minister Office, Pakistan in a statement said, "Articulating Pakistan's perspective, Prime Minister noted that no other country benefits more from peace and stability in Afghanistan than Pakistan."
Agreeing with Secretary Mattis, Abbasi, in the meeting, accepted "both Pakistan and the US have common stakes in securing peace and security in Afghanistan for the long-term stability of the broader region."
Denying existence of any terrorist safe heaven within Pakistan, Abbasi during the meeting said that the entire nation was committed to its resolve on eradicating terrorism once and for all in all its forms and manifestations.
He also appreciated the US resolve not to allow the use of Afghan soil against Pakistan.
Later during the day, Secretary met with the Pakistan army chief General Qamar Javed Bajwa and the Director General of Inter-Services Intelligence Lt General Naveed Mukhtar.
According to the Pakistan army, the two sides discussed Afghanistan and the regional security situation along with other issues of mutual concern.
"COAS acknowledged history of US engagements with Pakistan especially the ongoing efforts for continuing the positivity for peace in the region. He said that Pakistan has done much more than its due share despite capacity constraints but shall remain committed for peace as a responsible member of international community," said Pakistan army in a statement.
"He reiterated Pakistan's support to peace and stability in the region and highlighted Pakistan's concerns emanating from Indian use of Afghan soil, the necessity and right of Afghan refugees for a respectable and early repatriation and the existence of terrorist safe havens across the border in Afghanistan," it added.
General Bajwa also said that Pakistan has eliminated terrorist's safe havens from its soil "but are prepared to look into the possibility of miscreants exploiting Pakistan's hospitality to the Afghan refugees to the detriment of our Afghan brothers."
In spite of all warning coming from US, Pakistan it seems is not ready to change its current policy of using terrorists to destabilize Afghanistan and will continue to blame India-Afghanistan for its internal problems.