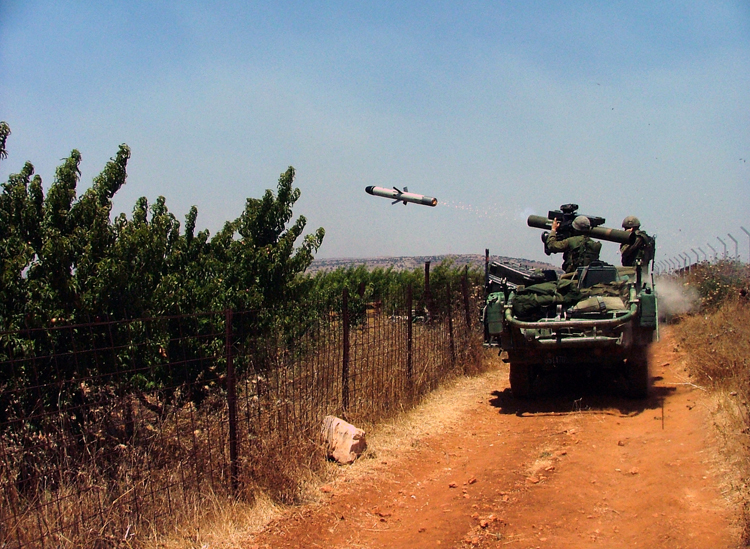 Spike ER
In a surprise move to boost Make in India, Ministry of Defence in December cancelled the much awaited anti tank missile deal with Israeli missile maker Rafael Advanced Defence System. The timing of the deal could not have been more wrong as the Israeli Prime Minister Benjamin Netanyahu is expected to arrive in Ahmadabad on January 14 where he will be received by Prime Minister Narendra Modi.
India was expected to purchase around 8,000 Spike missiles and 300 launchers for $500 millions to equip the Indian Army with cutting edge anti tank systems.
Company in a statement, published by Jerusalem Post, said, "Rafael has received an official statement from the Indian Ministry of Defense on the cancellation of the Spike missile deal."
"Rafael regrets the decision but is committed to continuing to pursue this important goal, as it has done with great success for over two decades, with a variety of innovative and advanced systems and with a commitment to the Indian Ministry of Defense," the statement added.
Just a fortnight before the four day visit of Netanyahu, the decision to cancel this deal with Israel is not only a diplomatic faux pas but also raise questions on the manner in which the defence procurement is being done. This decision raises many questions as the negotiation for the deal was over by April 2016.
In anticipation of the deal, Rafael joined hand with India's leading industrial house Kalyani Group to form Kalyani Rafael Advanced Systems (KRAS). The state-of-the-Art facility of the KRAS was inaugurated at Hyderabad on August 6, last year. The plant was expected to manufacture the spike missile system through semi knocked down and completely knocked down kits.
Speaking on the occasion, Baba N. Kalyani, Chairman, Kalyani Group said, "The path breaking visit of Hon'ble Prime Minister to Israel last month has reaffirmed the importance of bilateral defence cooperation between our two nations. This technology-based partnership is our endeavour to develop advanced Defence Systems and Remote Weapon System capabilities within India and is a testament to this increasing co-operation between Israel and India in a strategic sector. We are committed to the Government's vision of 'Make in India' and this Joint Venture manufacturing facility is a step in this direction."
During the Inauguration Ceremony, Maj Gen (Ret) Yoav Har-Even, President & CEO, Rafael Advanced Defense Systems Ltd. said: "Rafael has been increasingly looking at cooperation with India in the Defence and Aerospace arena. We are confident and eager to be a strategic partner in addressing India's Defence modernisation needs."
"We have, without any hesitations, offered our most advanced Defence Systems to India, with the willingness to transfer technology. Strategic cooperation between our two nations received a huge boost with the path breaking visit of PM Modi to Israel last month. Rafael is committed to 'Make in India' and this JV is a step in the same direction. The establishment of this facility is a sign of our commitment to 'walk the talk', in terms of partnering with Indian industry towards indigenous manufacture," he added.
According to Jerusalem Post, the joint venture with Kalyani group will not be closed.
The Request for Proposal (RFP) for the anti tank guided missile was sent out in 2010 and the test for the missile was completed in August 2012. The bid was opened in May 2015 and the price negotiation was completed in April 2016.
Between April 2016 and December the company made foreign direct invested in India and showed its commitment to the Indian market. According to reports, the spike has been removed to make way for indigenous vehicle mounted Nag ATGMs, which has been under development since late 80s. Nag has been going through series of test, latest being two test that were conducted on September 8, last year.
In a statement released after the September tests, development agency Defence Research and Development Organisation (DRDO) said, "India's indigenously developed 3rd generation Anti Tank Guided Missile (ATGM), Nag has been successfully flight tested twice by DRDO on 8-9-2017 against two different targets in the ranges of Rajasthan."
"With these two successful flight trials, and the flight test conducted earlier in June in the peak of summer, the complete functionality of Nag ATGM along with launcher system NAMICA has been established and marked the successful completion of development trials of Nag Missile," it further said.
The time line for the spike missile was expected to be around five years from signing of the contract, where in the first missile would have landed in India within first two years.
The government decision to not to go ahead with Spike is problematic on two accounts. First, this will further delay the army modernization and equipping of army with latest anti tank missiles. Nag is a vehicle mounted system which will have to be redesigned into a man portable system. This will require almost redesigning of the launch system almost immediately and it will have to undergo trails tests. Going by the history of DRDO this seems unrealistic. During the redesigning time, Indian army will continue to operate legacy ATGMs like Konkurs and Milans.
Second, this raises question on the government respect for the sanctity of the contract. If the government will not respect the procurement process which costs lots of money and time of foreign vendor and cancels the contract without any consideration for the vendors, this will make companies skeptical about the defence business in India.
In this case, Rafael went ahead and invested money in a JV and now will have to look for business for the plant. This is a risky proposition for any company. This situation is going to discourage future investors. Companies will wait for signing of contract before investing. Government needs to plan out Make in India projects in manner where it does not hamper the interest of global defence firms as they are equally important for equipping of Indian armed forces.