The company will also displayits counter-drone miniature jamming payload, carried on a mini-racer drone, designed to surgically address single threats.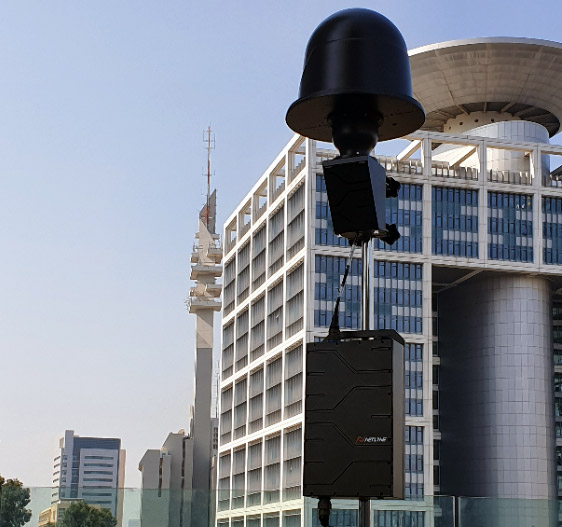 Strategic Compound Protection by The DroneNet DF System small
Netline Communications Technologies Ltd. - a leading developer and manufacturer of high-end electronic warfare and spectrum dominance systems for defense forces and homeland security agencies – is to launch a new DF component for its DroneNet system -at Milipol Paris 2019 and Defense & Security 2019.
DroneNetis a comprehensive detecting, identifying, direction finding, locating and jamming solution, designed topreventunauthorized dronesentering secured airspace, such as over strategic facilities, temporary military bases or public appearances of high-profile officials.
The new, MIL STD-compliant DF component adds an additional layer to the multi-layer DroneNet solution.Whilst the deployment of a single DF sensor points the locationof a detected drone (both its direction and its elevation), the deployment of multiple DF sensors enables the determination of a precise 3D location.
Upon detection of an unauthorized drone, the DroneNetcanjamthe communication between the drone and its operator on ISM bands, as well as the drone's GPS signal. By disabling the drone's control and telemetry channels, the DroneNet operator eliminates the immediate threat. The DroneNet's modular design enables future upgrade and insertion of additional capabilities, frequencies and threats to the Data Base.
"As future threats in this fieldevolve, Netline continues to invest in developing additional capabilities in several domains," says YallonBahat, CEO of Netline. ", We are proud to reveal two of these capabilities,providingenhanced actionable information, such as precise 3D location,and surgical mitigation. Netline's solution is one of the first of its kindcurrently available in the C-Drone market.This latest developmentaligns with our vision tobecome one of the leading players in the C-Drone solutions arena, and our aim to overcome our customers' operational gaps."
At its booth, Netline isalso displayinga miniature jamming payload, carried on aracer drone, capable of reaching speeds of up to 300 mph. Thisprovides a precisesolution for pin-pointjammingof suspicious drones intruding on secured airspace, giving customers the abilityto deal with threats surgically, without having to use the entire DroneNetjamming segment.