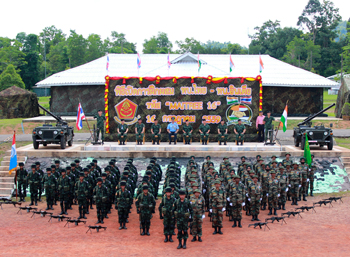 Exercise Maitree country contingents during the opening ceremony in Thailand
Exercise 'MAITREE' a joint exercise between Indian Army and Royal Thailand Army is being conducted from 15 to 30 Jul 16 at Krabi, Thailand. The aim of the joint exercise is to train contingents of both the armies on conduct of counter terrorist operations in an urban environment. A strength of 90 soldiers from Royal Thailand Army and an equal number from Indian Army are taking part in the two week long joint training exercise.
The exercise is designed to enhance mutual cooperation and interoperability between the two armies and improve understanding of each other's tactical drills and actions in counter terrorism operations. The participants of the two Armies will also familiarise themselves with each other's armed forces' structure as well as the geography & culture of both countries.
Exercise MAITREE will go a long way in further cementing the bilateral relationship between the two nations & giving impetus to the ongoing defence cooperation.