It was a bright sunny morning when defence personnel and civilians from different parts of the country gathered at the Indian Military Academy (IMA) to witness a spectacular event—the passing out parade (POP). On June 10 and June 12, 648 Gentlemen Cadets including 23 Gentlemen Cadets from the friendly countries and 23 Cadets of Assam riffles gathered at IMA for the event.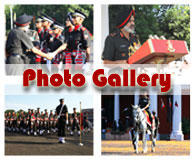 The two-day event started with Commandant's Parade on June 10. IMA Commandant Lt General Rajinder Singh Sujlana was the chief guest. He congratulated all the young Gentlemen Cadets for choosing the noble profession and advised them to be ready to face all types of challenges. "The Indian Army is respected for being apolitical, chivalrous, brave, dedicated and selfless. These are the values all officers must uphold and the ethos should guide every action of theirs," said he. Sujlana, who was the reviewing officer emphasised on the virtues such as courage, fortitude, loyalty, comradeship in arms, brotherhood among the soldiers. He complimented the Deputy Commandant and all the instructors and faculty for moulding the Gentlemen Cadets into fine young officers.
The final Passing out Parade was held on June 12. Former Chief of Army General J.J. Singh who is now the Governor of Arunachal Pradesh was the chief who reviewed the parade along with Sujlana. The reviewing officer congratulated the young officers and also inspected the Guard of Honour which was given by the gentlemen cadets. The Sword of Honour, a coveted recognition which is given to the best cadet was given away to Gaurav Hirday. Excited Gaurav said, "Only one person is awarded. I am very happy that I have got it." He was also awarded a silver medal for standing second in order of merit in the regular course. While the gold medal was given away to Sumeet S. Lahane for standing first in order of merit, Yogendra Kathayat won the bronze medal. At the end of the parade, as the Gentlemen Cadets marched on the tunes of Sare Jahan Se Achacha Hindustan Hamara and Colonel Bogey, the Army helicopters showered petals on them and they marched through the portals of Chetwode and took their final step and become Indian Army officers.
IMA is undergoing tremendous change in terms of training and infrastructure. Simulator training is carried out in the Academy to train Gentlemen Cadets to get familiar to modern warfare techniques. Lt General Sujlana informed that a new key location plan (KLP) is coming up in the Academy. The new building will have a mess named after Captain Vikram Batra, who was awarded the Param Vir Charka for his bravery during Kargil war. About 1,200 Gentlemen Cadets will be able to dine together.
Sujlana further said that a new sailing club, six modern squash courts, synthetic tennis court, synthetic hockey and an athlete ground would soon come up in the Academy.