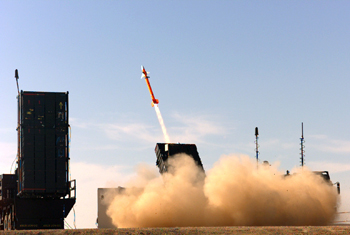 Rafael Advanced Defense Systems Ltd. hosted representatives from 16 countries for a special demonstration of its air defense systems and capabilities. The visit included seminars and meetings with top iMOD and Air Force officials.
Rafael demonstrated its Iron Dome system, which has already intercepted over 1500 rockets in combat, and test-proven against UAV's, and its SPYDER air defense system, also combat-proven.
Rafael's has a long legacy of developing state-of the-art active air defense systems, which also include the David's Sling for intermediate range air defense threats, jointly developed with Raytheon US and already fully tested and delivered to the Israeli Air Force.
Mr. Yossi Horowitz, Director of Marketing and BD for Rafael's Air Superiority Division stated that the guests were highly impressed by Rafael's developments and performance of its air defence systems. "We can proudly say that Rafael is a global leader in this domain, and we will continue to strive for more ground-breaking systems in the future", added Horowitz.