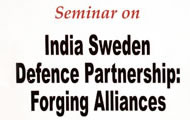 | | | |
| --- | --- | --- |
| | | |
| | Photo Gallery | |

India is amongst the top five defence equipment importers in the world. Its main challenge in procuring the necessary equipment is made complex by the security environment in which it is placed. Policy of neutrality and non-alignment make India an ideal partner for Sweden , which shares the tradition of non-alignment. Sweden assured India of its long term support to the development of Indian defence systems by way of technology transfer and co-production based on technologies for the future. Dr. Ewa Bjorling, Swedish Minister for Trade, told representatives of Indian trade and industry at a seminar on 'India-Sweden Defence Partnership:
Forging Alliances, organized by FICCI, Embassy of Sweden and Swedish defence industry, "Sweden is not seeking a buyer, but a strategic partner for long term cooperation for future defence and industrial development. That would serve as a guarantor for independence instead of relying on a single partner."
Sweden, she said, had outstanding systems, technologies and products that "we would be happy to share with India and, given the interest and the possibilities, also to develop together." When the Swedish and Indian governments have signed the MoU concerning cooperation in the field of defence, it would be an excellent platform for cooperation between the armed forces of the two countries within mutually beneficial areas, Dr. Bjorling pointed out. A stronger relationship between the European Union and India, the Swedish Minister said, was clearly called for as India emerges as an increasingly important and democratic power and the EU as it now consolidates its institutions for its common and foreign security policies.
Mr. Gunnar Wieslander, Swedish Deputy Minister of Trade, pointed out that Sweden was looking for long term partners in the defence sector and was offering the entire chain in the transfer of technology, from design to verification and production and validation to the feedback process. India, he said, had the right requisites to be the right partner for Sweden and as partners the two countries could develop competitive products. He stressed that transfer of technology goes on a daily basis in the globalised industrial world and feeling the trust between the two countries have to be priority criterion. These will be followed by expertise and financial strength.
Mr. Harsh Pati Singhania, President, FICCI, in his address noted that the 'Buy & Make (Indian)' category under the Defence Procurement Policy 2009 was intended to encourage the big foreign arms manufacturers to set up joint ventures in India. Under this new category, the production and development will be through transfer of technologies and not through R &D. This, he said, would result in the development of a robust and self reliant defence sector through true transfer of technology and the technological know-whys. The offset policy along with the provision of offset banking promises to expedite Indo-Swedish defence collaborations, the FICCI chief pointed out.
Mr. Azim Premji, Chairman, Wipro Ltd., advised Indian and Swedish defence companies to be transparent in technology transfer deals from the point of view of national safety and called for reasonableness on transfer pricing on components. "Choose your partners well. Look for companies that have expertise and integrity and build technology transfer and joint ventures based on mutual trust," he told defence industry professionals. He stressed that India is a religion neutral country, with strong political and bureaucratic leadership, which is serious in terms of implementing the intellectual property act.
Mr. Marcus Wallenberg, Chairman, SAAB, emphasized the need to build a long term relationship in defence cooperation, build partnerships with companies having a high level of competence and secure a strong supply chain over long years. We would like to share our knowledge on design, validation and feedback.
Mr. Gyanesh Kumar, Joint Secretary, Defence Production, Ministry of Defence, underlined the need for ensuring product cycle support for Indian companies through co-development based on transparency. Management of timelines in technology transfer, he said, was critical which the private players would have to manage to keep in step with the fast changing technology. The Ministry of Defence, he said, was interested in critical technologies that Indian industry could absorb. He also informed that a new clause of Buy and Make Indian has been added in the defence procurement procedure. This is a wakeup call for the Indian industry to take it up as business in defence production is vast and there is space for everyone. This is a huge step forward for the Indian private industries to work in the defence sector and would enable them to get involved at the RFI stage itself. Hence TOT becomes an integral part of the process.
The seminar was addressed, amongst others, by Mr. VRS Natarajan, CMD, BEML & Chairman, FICCI, Defence Committee; Mr. Ake Svensson, President & CEO, SAAB, AB; Mr. Magnus, Ingesson, President, BAE Systems AB; Mr. John Nilsson, Director, Special Projects, Kockums; and Major General (Retd.) Peter Lundberg, President & CEO, SOFF.