The company has also secured follow-on orders worth $8 million to supply its C-IED system, the C-Guard RJ, in both portable & vehicular configurations, to a state police force in Asia.
C-Guard RJ ManPack
Netline Communications Technologies Ltd. – a leading developer and manufacturer of high-end electronic warfare and spectrum dominance solutions - is strengthening its presence in the APAC region, with several new contracts recently signed in this market.
One significant contract is a program to provide the C-Guard Reactive Jamming (RJ) Vehicular System, a vehicle-installed system that provides counter-IED (improvised explosive device) protection, to head-of-state motorcades in a Southeast Asian country. This unique solution both detects the threat and provides an immediate response, preventing remote detonation of radio controlled IEDs by transmitting jamming signals around the entire convoy. The system will be delivered by the end of the year.
Other contracts signed by Netline include follow-on orders for the supply of both vehicular and ManPack (MP) C-IED systems, to a state police force in Asia. In its MP configuration, C-Guard RJ is carried by frontline forces in a single backpack unit, preventing attempts to activate IEDs around tactical forces when on the move.
IEDs, such as roadside bombs, are activated by radio-controlled devices (cell phones, walkie talkie, etc.), and have become a common threat in today's a symmetric warfare, as they are easy to make. Delivering benefits that include superior reactive jamming capabilities, wide coverage, simple operation by ground forces within a specific radius, and compliance with a wide range of Mil-STDs and radiation safety regulations, Netline's C-Guard family of reactive jamming systems provide a real-time counter-IED solution.
"We are pleased to further establish our presence in Asia, both with new contracts and business, and by securing follow-on orders from existing customers," says Yallon Bahat, CEO of Netline. "Both our new and repeat orders are an indication of our customers' satisfaction with Netline's technology and products. We appreciate the cooperation with the different security agencies in these countries and believe this cooperation will be extended to additional future projects, enabling our customer to align their EW security strategy with the rapidly evolving threats, by using Netline's high-end, advanced EW technology."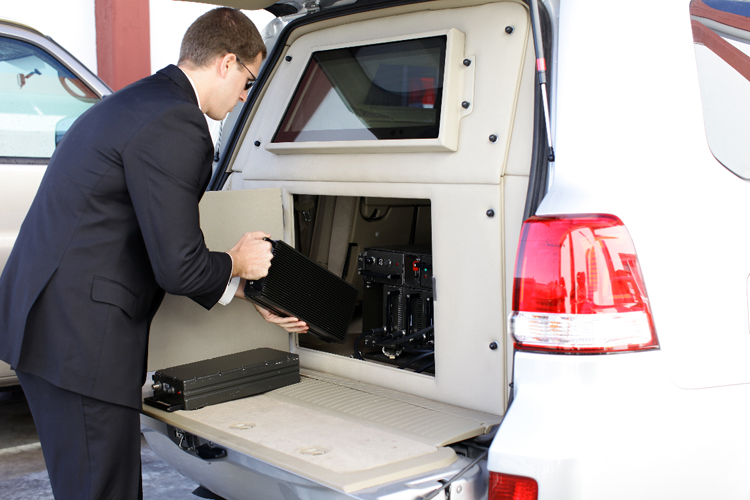 The C-Guard RJ Vehicular System Protecting VIP's Motorcades